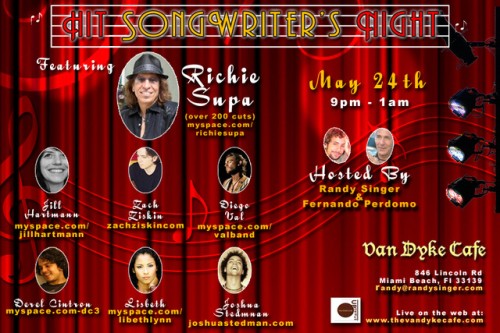 Van Dyke Cafe is proud to have an all star songwriting showcase featuring the legendary Richie Supa.
Richie has written many hits for Aerosmith including "Chip Away The Stone", "Amazing", "Pink", "Hole In My Soul", and "Lightning Strikes". He also wrote "My Interpritation" for Mika and "Too Much Of A Good Thing" for Bon Jovi. He also cowrote all of Ritchie Sambora's "Undiscovered Soul".
Also performing is Zach Ziskin who is a Grammy award winning producer and engineer who has also written songs for American Idol.
Hosted by Randy Singer and Fernando Perdomo
Also featuring Joshua Stedman, Derek Cintron, Lisbeth Lynn, and Diego Val plus special guests. Come On Out FREE