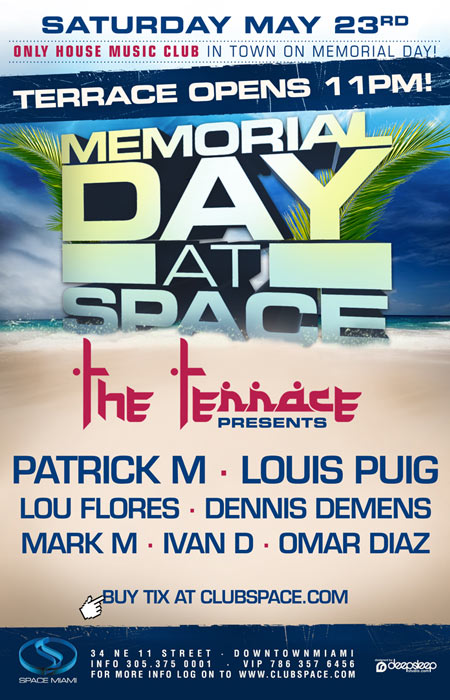 Memorial Day
Saturday, May 23, 2009 10:00 PM
Space | 34 NE 11th Street
Space Terrace sounds by
Patrick M, Louis Puig,
Lou Flores, Dennis Demens
Mark M, Ivan D, Omar Diaz
Every year, Space Miami presents an 'escape route' for locals and tourists alike weary of the chaos on South Beach during the Memorial Day Weekend. This Saturday, May 23rd is no exception. Starting at 11pm, Space proudly continues the annual tradition with a stellar lineup of local rising stars and scene veterans alike, including Space resident DJ / producer Patrick M, rising star of the local dance music scene Lou Flores, noted DJ / producer Dennis Demens, as well as perennial favorites Mark M, Ivan D, and Omar Diaz.
Rounding out the lineup this evening will be none other than Space owner / operator Louis Puig, who has gotten back into the art of DJing with a vengeance, and has been setting fire to the dancefloor with a wide-ranging mix of intelligent sounds, crowd favorites, and fondly remembered classics.
Click here to purchase tickets
Thank you for using Soul Of Miami!