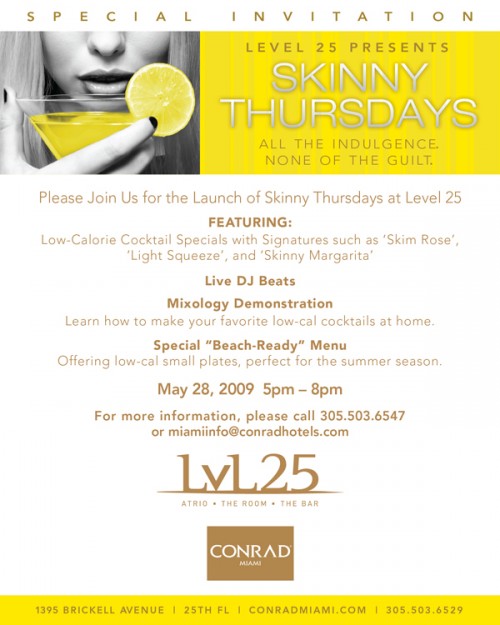 On Thursday, May 28th from 5pm – 8pm, Level 25 invites you to experience all the indulgence with none of the guilt at the launch of "Skinny Thursdays", Miami's only happy hour where all cocktails and menu options are less than 200 calories. Low-calorie cocktail specials ($7) will be offered on signature drinks such as 'Skim Rose' (Belvedere vodka, fresh cranberry juice, Moet Chandon Imperial & fresh raspberries – 164 calories), 'Thin Fresh' (Pisco 100, Fresh watermelon, squeezed lime & diet-lemon-lime soda – 115 calories) and 'Light Squeeze' (Kettle One Citrus, Ruby red grapefruit, Fresh lime & lemon & Diet Tonic water – 154 calories).
Skinny Thursdays will debut with a special night of low-calorie cocktail specials, live DJ performance and a Mixology demonstration to learn how to make your new favorite low-cal cocktails right in the comfort of your own home.
A unique "Beach-Ready" menu ($6-$10), perfect for the summer season, will also be available exclusively at Skinny Thursdays. The menu will offer a low-cal take on savory gastro-pub fare such as Petite Beef Sliders with pickles on a sesame seed bun, Florida Seafood Ceviche Shooters with fresh key lime and crispy plantain chips, Mini Ahi Tuna Tacos with avocado cream in a crisp wonton chip and Cedar Plank Grilled Salmon with frisse and chervil salad and mustard vinaigrette.