Smith & Wollensky, America's famous steakhouse, will join Napa Valley's premier winery, Beringer Estates, in hosting a delicious 5-course dinner paired with 4 fabulous wines from the region's oldest continuously operating winery on May 20 at 6:30pm. The standout menu will include colossal-lump crab cocktail, filet mignon and vanilla panna cotta among many delectable items.
Seating is limited for this event and ticket prices are $125. For Reservations please call 305.673.2800.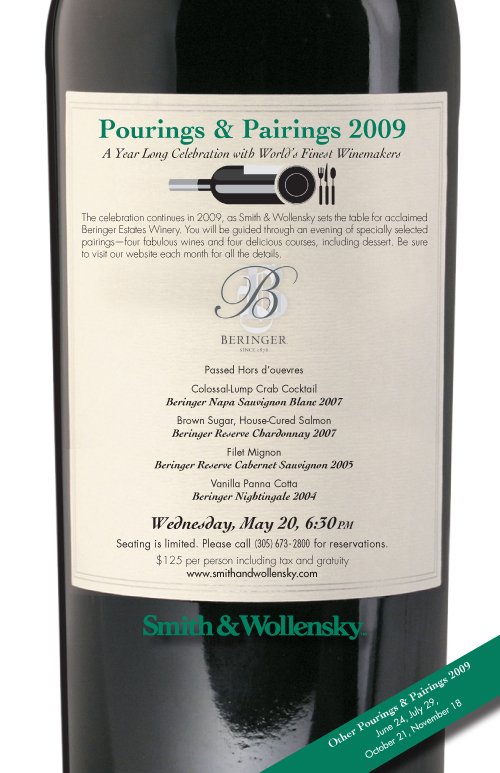 www.smithandwollensky.com
Pourings & Pairings 2009
A Year Long Celebration with World's Finest Winemakers
The celebration continues in 2009, as Smith & Wollensky sets the table for acclaimed
Beringer Estates Winery. You will be guided through an evening of specially selected
pairings—four fabulous wines and four delicious courses, including dessert. Be sure
to visit our website each month for all the details.
Wednesday, May 20, 6:30 PM
Passed Hors d'ouevres
Colossal-Lump Crab Cocktail
Beringer Napa Sauvignon Blanc 2007
Brown Sugar, House-Cured Salmon
Beringer Reserve Chardonnay 2007
Filet Mignon
Beringer Reserve Cabernet Sauvignon 2005
Vanilla Panna Cotta
Beringer Nightingale 2004
Thank you for using Soul Of Miami!