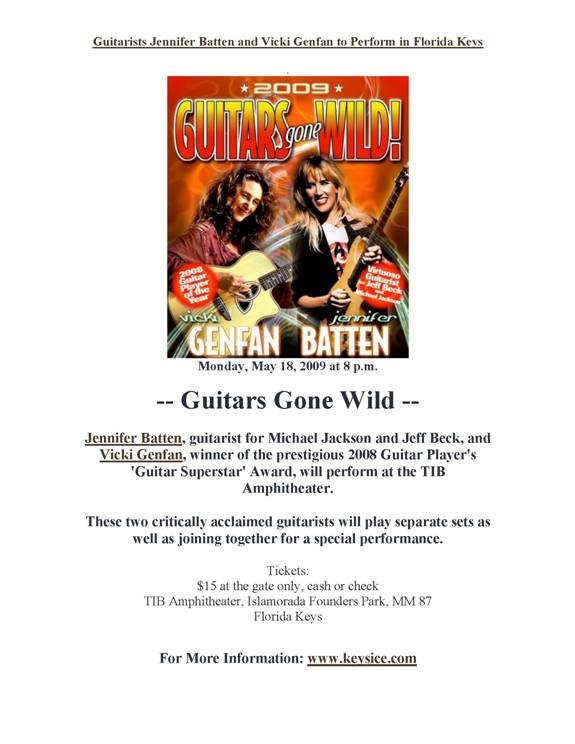 Batten/Genfan
Monday, May 18
8 p.m.
TIB Amphitheater
On Monday, May 18, at the TIB Bank of the Keys Amphitheater, fans can experience two of the most critically acclaimed guitarists playing today — Jennifer Batten and Vicki Genfan.
At one point Batten was in 6 different bands, playing everything from straight ahead rock, to metal, fusion, and funk. A major turning point came when she was selected from more than 100 guitarists to play in Michael Jackson's band, resulting in 3 world tours over 10 years and playing in front of almost 5 million people.
Spring of 98' saw Batten joining legendary guitarist Jeff Beck, resulting in two CDs ("Who Else," "You Had It Coming") and corresponding world tours. Says
the Cleveland Plain Dealer of Jennifer's Rock N Roll Hall of Fame performance honoring Les Paul: "The evening's showstopper was Jennifer Batten…amazing and technically dazzling."
Vicki Genfan has captivated both US and international audiences with a unique style that defies description. Winner of the prestigious 2008 Guitar Player's "Guitar Superstar"Award, Vicki has developed a sound all her own.
As Joel Selvin of the San Francisco Chronicle writes, "Genfan doesn't just play guitar. She also slaps it, tickles it, fondles it, scratches it, tosses it around in her hands and coaxes all kinds of unlikely, rhythmic sounds out of the otherwise simple instrument."
Vicki is that rare artist whose live performances are becoming legendary among fans.
Genfan's newest release is "UnCovered."