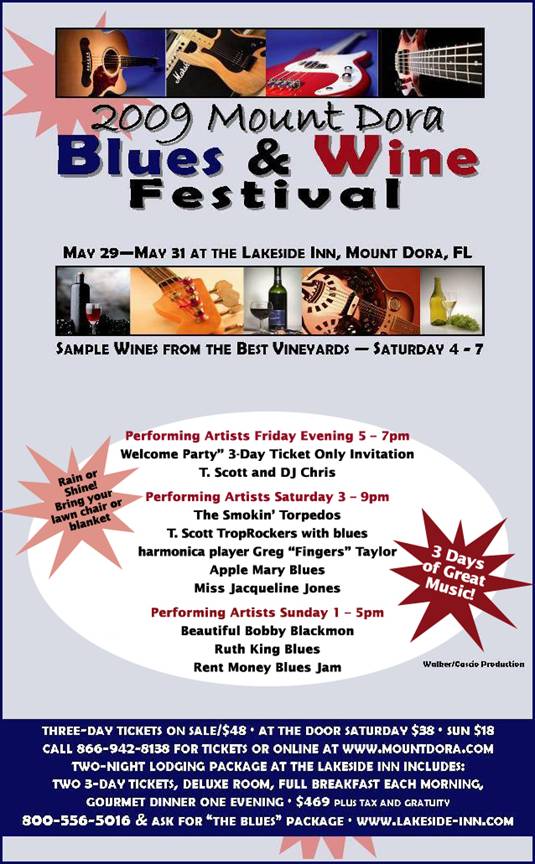 ~ Mount Dora Blues & Wine Festival ~
May 29th, 30th, and 31st 2009
The historic Lakeside Inn in downtown Mount Dora is hosting the new Blues and Wine Festival on Friday May 29th, Saturday May 30th and Sunday May 31st, 2009! This will be a fun weekend filled with earthy blues tunes and delicious wine! Music featuring Central Florida's Top Blues Artists such as T Scott TropRockers with blues harmonica Greg "Fingers" Taylor, Apple Mary's Blues, Jacqueline Jones, Bobby Blackmon, Ruth King Blues, and the Smokin' Torpedos! Bring your lawn chairs and blankets, sit back and relax!
On Saturday, sample premiere wines from vineyards all over the USA! This event will be held from 4-7pm and is included in your ticket price! The major vineyards will showcase their best for you to sample from booths throughout Lakeside Inn grounds.
Three-Day Event Tickets $48 in advance! Saturday tickets at the door $38, Sunday tickets at the door $18. Three-Day ticket holders are invited to a special VIP Blues and Wine Tasting event in the Lakeside Inn Lobby from 5pm-7pm. Saturday festivities from 3pm-9pm and Sunday from 1pm-5pm.
Tickets available at the Mount Dora Chamber of Commerce, 352.383.2165. For the Lakeside Inn 2-Night Blues & Wine Package which includes two 3-Day Tickets, Dinner for Two and Gourmet Breakfast each morning call 800.972.7175 or visit www.lakeside-inn.com.
DETAILS:
Performing Artists Friday Evening 5 – 7 pm
'Welcome Party' 3-Day Ticket Only Invitation
T. Scott and DJ Chris
Wine Tasting Saturday 4 – 7 pm
Performing Artists Saturday 3 – 9 pm
The Smokin' Torpedos
T. Scott TropRockers w/ blues harmonica player
Greg "Fingers" Taylor
Apple Mary Blues
Miss Jacqueline Jones
Performing Artists Sunday 1 – 5 pm
Beautiful Bobby Blackmon
Ruth King Blues
Rent Money Blues Band Jam
for more info: www.mountdorabluesandwinefest.com
LAKESIDE INN
100 North Alexander Street
Mount Dora, FL 32757 USA
Toll Free 800.556.5016 or Local 352.383.4101
Email: info@lakeside-inn.com
http://www.lakeside-inn.com/
Lakeside Inn is located 40 miles northwest of Orlando, Kissimmee/St. Cloud, Disney World, Epcot, Universal Orlando, SeaWorld and Cypress Gardens. Guests can explore the fun parks from an authentic, Old Florida masterpiece: Lakeside Inn, the heart of Central Florida's Mount Dora. The 120-year-old historic landmark is rooted in a peaceful, romantic and genteel era yet offers the conveniences and activities of the modern times.
Mt. Dora is known as the "Antique Capital of the South" and "Festival City," legendary for its throng of boutiques, antique shops and Renningers Antique Center. Many of the little village's shops have endured for generations of shopkeepers and house home and apparel treasures not easily found elsewhere.