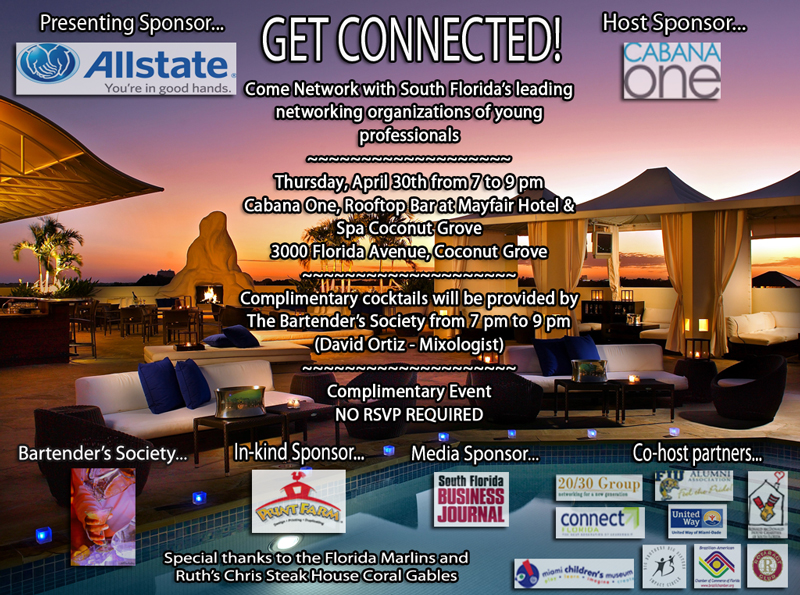 ALLSTATE, BARTENDER'S SOCIETY, CABANA ONE, PRINT FARM & SOUTH FLORIDA BUSINESS JOURNAL PRESENT "GET CONNECTED"
~ South Florida's Premier Gathering of Young Professionals ~
On Thursday, April 30th, from 7 p.m. to 9 p.m., members of South Florida's leading networking organizations for young professionals will gather to celebrate the premier of "GET CONNECTED", an event which offers young professionals a platform to network and build relationships in our community. The event will take place at Cabana One, Rooftop Bar at the Mayfair Hotel and Spa in Coconut Grove.
Participating in this year's event will be the following groups:
v Brazilian-American Chamber of Commerce of Florida (BACCF) – is the largest bi-national chamber of the Americas in South Florida. With the mission to foster business relations and partnerships in order to increase trade and investments between the two regions, the BACCF is a dynamic organization that promotes and offers several activities and benefits, including luncheons with guest speakers, card-exchange events, networking opportunities, committees, business referrals, listings, special promotions, and much more. Our Brazilian-American Young Professionals Club fuses the diversity and livelihood of our local future business leaders and young entrepreneurs, seeking to engage the community in events such as the upcoming Young Pros Summit Event.
v Connect Florida – The first statewide organization of young professionals connecting Florida's leaders in the 21 to 35 age range. The innovative new program, created by Leadership Florida, assists young professionals in making a positive impact on our state.
v Coral Gables Chamber of Commerce 20/30 Group – The 20/30 Group is a platform for emerging leaders within the Coral Gables Chamber to further develop their leadership and entrepreneurial skills, build their network, and contribute through philanthropic efforts.
v Coral Gables Rotaract Club – a nonprofit service club designed for young professionals and sponsored by the Rotary Club of Coral Gables. Coral Gables Rotaract is part of a global network of over 7,000 Rotaract clubs in about 163 countries, all centered on community service, international understanding, leadership training and professional development.
v Impact Circle of Big Brothers Big Sisters of Greater Miami – Impact Circle is the fun, fabulous & philanthropic membership group of Big Brothers Big Sisters of Greater Miami. Impact Circle is an exclusive group which provides access to unique events & interactive experiences to engage with other young, upscale members.
v Miami Children's Museum – Founded in 1983, Miami Children's Museum is dedicated to enriching the lives of all children by fostering a love of learning and enabling children to realize their highest potential. Visitors of all ages are encouraged to play together, learn, imagine and create.
v Ronald McDonald House of South Florida – the members of the young professional group of the Ronald McDonald House, located on the grounds of Jackson Memorial Hospital, work together to engage in the lives of families with sick children.
v United Way of Miami-Dade's Young Leaders – a dynamic group of caring, generous, successful young professionals who have committed themselves to making our community the best it can be. By actively participating in volunteering, networking, personal and professional growth opportunities, Young Leaders are helping United Way make a lasting, positive impact in people's lives and in our community. Today, over 1,600 Young Leaders representing a broad cross-section of Miami-Dade's industries are involved, and the program continues to grow.
v Young Urban Professional Alumni (YUPA) – is a dynamic organization of Florida International University (FIU) graduates who are 39 years old or younger. YUPA provides a venue for young alumni to interact and network with each other for their professional/personal development. FIU has approximately 60,000 alumni who fit the South Florida YUPA criteria. The group was formed in 2006 and consists of young alumni professionals looking to advance in their careers and make the most out of life. This unique group stands apart and shares common interests that many young alumni have today. YUPA is open to FIU young alumni of all majors and every profession.
"This event certainly provides young professionals, like me, the opportunity to meet one-on-one to discuss the current state of our industries and discuss how we can collaborate to not only advance in our field but also help our community prosper," noted Anthony Bayona, president of the Ronald McDonald House of Miami young professional group.
Young professionals in the South Florida community are urged to assist the first-ever GET CONNECTED event. This event is free of charge. A special thanks to Ruth's Chris Steakhouse Coral Gables and the Florida Marlins for their participation. For more information, please contact Natalie Leon at (786) 537-0751 or Cristina Tacoronte at (305) 788-0808.