FUNDarte presents Gema Corredera in concert
The great Cuban singer, Gema Corredera, will be in concert on May 22nd at the Artime Theater in Little Havana, Miami, after half a year of being detained in Puerto Rico due to immigration problems.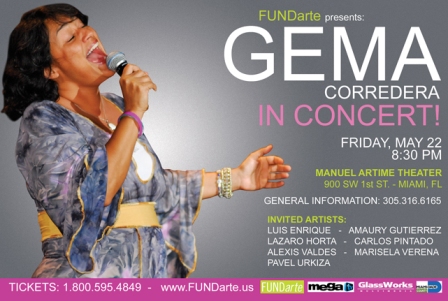 Date & Time: May 22, 2009, 8:30 PM
Tickets: Click here for secure online ticketing
$20 General Admission
1-800.595 4849
Location: Manuel Artime Theater
900 SW 1st Street, Miami
This concert is a fundraising event produced by the Miami-based non-profit cultural presenter FUNDarte in order to support Gema Corredera by covering some of the legal expenses the singer still faces in Puerto Rico and to help her resettle in Miami. The singer will bring to Miami the best of her repertory and use her voice, her greatest treasure, to thank everyone for the support she received during her unfortunate experience with the immigration authorities. She has invited a number of artists and friends to join her on stage, including Luis Enrique, Amaury Gutierrez, Lázaro Horta and Marisena Verena, among others. In addition, a band of local musicians will join her in her in this, her first solo concert in South Florida. The singer and composer Pavel Urkiza will also travel from Spain to support Gema, his partner in the famous duo Gema y Pavel.