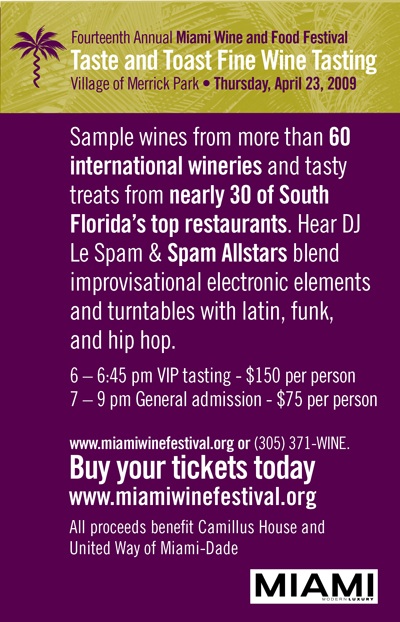 Wine & Dine for a Good Cause
14th annual Miami Wine and Food Festival to take place
Thursday, April 23 – Saturday, April 25
South Florida's much anticipated charity wine event, the Miami Wine and Food Festival is back and has never been better. With three exciting days of great food, wine and fun, benefiting Camillus House and United Way of Miami-Dade, foodies and wine lovers should definitely mark their calendars.
Kicking off the festival on Thursday, April 23rd is a Taste and Toast extravaganza at Merrick Park, featuring nearly 60 international wineries from some of the finest properties around the world, and gourmet treats from many of Miami's premiere restaurants and caterers. Participating restaurants include Morton's The Steakhouse, North One 10, Two Chefs, the River Oyster Bar, Smith & Wollensky, Ortanique on the Mile, Timo's, Flemings Prime Steakhouse & Wine Bar, Lan Pan-Asian Café, among many others. The VIP tasting begins at 6 pm, general admission begins at 7 pm; tickets are $150 per person for VIP admission; $75 per person for general admission online, or $100 per person by phone or at the door. Merrick Park is located at 358 San Lorenzo Avenue, Coral Gables.
The festivities continue Friday, April 24th with a Food, Friends and Fun Interactive Dinner. The event is the ultimate good time for foodies, where tables team up to cook their own three-course meal under the direction of a world-famous chef. The evening begins at 6:30 pm with a silent auction and cocktail reception followed by the interactive dinner at 7:30 pm, at the JW Marriott Hotel Miami, 1109 Brickell Avenue. Tickets cost $250 per person and $2,000 per table.
"We are greatly looking forward to this year's Wine & Food Festival," said Event Chair Dan Hanranhan, president and CEO, Celebrity Cruises. "We promise that this year will be one of our best ever and hope that we can raise much needed funds for Camillus House and the United Way."
The Miami Wine and Food Festival wraps up Saturday, April 25th with a Bubbles, Bids & Bites Auction and Dinner, featuring live and silent auctions of exotic travel packages, relaxing spa retreats and a world class collection of rare wines. The event begins at 6 pm with a Champagne Mumm reception and silent auction, followed by the live auction and casual dinner at 7 pm, at the JW Marriott Hotel Maimi. Tickets are $500 per person and $5,000 per table.
For futher information, please call (305) 371- WINE or visit www.miamiwinefestival.org
Thank you for using Soul Of Miami!