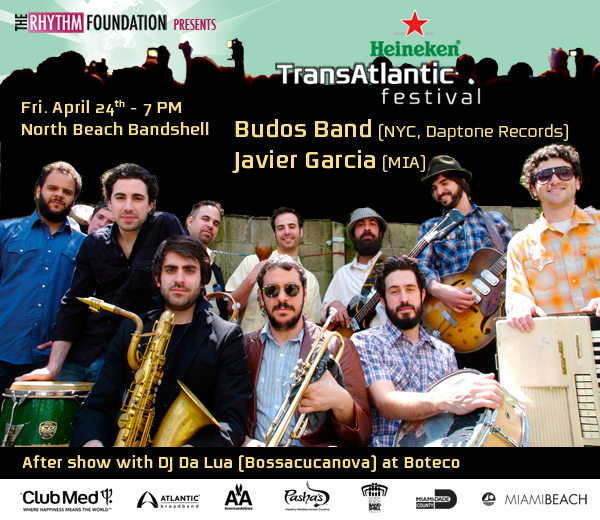 This Friday, April 24th – 7 PM sharp
Heineken TransAtlantic Festival presents:
Budos Band and Javier Garcia
North Beach Bandshell, 73rd Street and Collins Avenue, Miami Beach 33141
Free parking in the municipal lot across the street!
Tickets $20 advance (children under 12 free).
Click here for the complete Festival schedule + music and video clips and more.
After show party with DJ Da Lua (Bossacucanova) at Boteco
The Budos Band are an 11-member big band, a majestic sonic groove of Afrobeat, Ethiopian jazz, funk and 1960s Stax-era soul. The core of the band met as youths while participating in an after-school jazz ensemble in Staten Island. Late night ferry rides into Manhatta, led to the back door of the No Moore Club downtown, packed with James Brown fanatics and Fela Kuti disciples. They fell hard for bands like Antibalas, the Sugarman Three, and Sharon Jones and the Dap-Kings and knew this was their new musical direction. After meeting resistance from the band director, they recruited a few more horn players and formed their own band. With the 2005 release of their self-titled debut album, the Budos Band officially joined the ranks of the Daptone Family and began to perform frequently as part of the Daptone Soul Revue, alongside the very acts that had inspired them only a few years before.
Javier Garcia creates "a musical narrative for Miami as sweet as kissing your honey on the beach to a swaying reggae beat, as danceable as a 3 a.m. Cuban jam session." Born in Spain to a Cuban father and an Irish mother, Javier started playing the guitar at 12 years old. The Franciscan headmaster at his high school in Ireland told him that although he loved hearing his music in the school halls, he would be better suited in another school. So he moved with his father in Miami and fully delved into Cuban Miami music and life. His first CD achieved gold sales and set up young Javier as a Latin pop star. But he delved more into music roots, and began to work with top collaborators on a follow-up, finding greater musical freedom and maturity: multi-Grammy award winning producer Gustavo Santaolalla, drummer Abe Laboriel Jr (from Paul McCartney's band), living batá treasure Francisco Aguabella and others. His sound is a diverse fusion of Cuban music with rock, hip-hop, ska, funk, reggae, anchored by his talents as a composer, arrange, guitar and percussion player and gifted singer.
DJ Marcelino Da Lua is one third of the ground-breaking Rio de Janeiro-based team Bossacucanova. Second-generation bossa novans, they have taken the iconic music of their fathers and made it new yet again with the addition of breakbeats and electronica. As a DJ, Da Lua lets loose with a mix of Brazilan, hiphop, reggae and electic sounds. The After Show party at Boteco is free and open to the public.
Coming up: Sat April 25: CuCu Diamantes (Yerba Buena) and Tinariwen at North Beach Bandshell
See you there!
The Heineken TransAtlantic Festival is presented with support from Heineken USA, Club Med, American Airlines, Pasha's Restaurants, Atlantic Broadband, Business Centers International, North Beach Bandshell Trust, John S. and James L. Knight Foundation, National Endowment for the Arts, City of Miami Beach Cultural Arts Council, Miami Dade Department of Cultural Affairs.