The Tchaikovsky Concert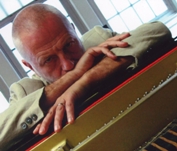 Saturday, May 2 at 8 PM
Sunday, May 3 at 3 PM
Adrienne Arsht Center
Knight Concert Hall
Tickets from $16
Celebrate the end of a fantastic season with the unbridled romance of Tchaikovsky and the rich talents of MTT and pianist Vladimir Feltsman. Enjoy a lively lyric scene from Tchaikovsky's opera Eugene Onegin as Conducting Fellow Edward Abrams brings the elegant Polonaise to life. His First Piano Concerto has endlessly been parodied by Liberace stylings, but in the hands of fellow Russian Feltsman, this work is pure genius and beauty. The musical and biographical journey ends with his Fifth Symphony, where MTT navigates through the dense score of incandescent sensibilities and erupting violent outbursts. Broward patrons: take advantage of our round-trip bus service to Sunday's performance. Call the box office for more details!
Buy Now! Click here or call our Box Office at 305-673-3331 to choose your concert today!
Thank you for using Soul Of Miami!