ART DECO FILM SERIES
Tuesday 14 April
7:00 pm
FILM NOIR CLASSICS
Film noir, a cinematic term used primarily to describe stylish Hollywood crime dramas, often emphasizes moral ambiguity and sexual motivation, derived from the hard-boiled school of crime fiction that emerged in the United States during the Depression. Hollywood's classic film noir period is generally regarded as stretching from the early 1940s to the late 1950s, and films of this genre are associated with a low-key black-and-white visual style that has roots in German Expressionist cinematography.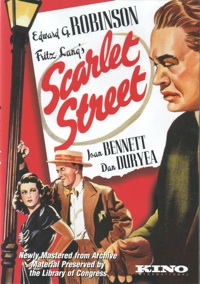 Scarlet Street
Directed by Fritz Lang
USA/1945/101 minutes/B&W
A box-office hit in its day (despite being banned in three states), Scarlet Street is perhaps legendary director Fritz Lang's (M, Metropolis) finest American film. When middle-aged milquetoast Chris Cross (Edward G. Robinson–Double Indemnity, Little Caesar) rescues street-walking bad girl Kitty (Joan Bennett–The Reckless Moment) from the rain-slicked gutters of an eerily artificial backlot Greenwich Village, he plunges headlong into a whirlpool of lust, larceny and revenge. As Chris' obsession with the irresistibly vulgar Kitty grows, the meek cashier is seduced, corrupted, humiliated and transformed into an avenging monster before implacable fate and perverse justice triumph in the most satisfyingly downbeat denouement in the history of American film. Free admission.
Location: Art Deco Education Center at Historic City Hall, 1130 Washington Av, Miami Beach
Information: 305-672-2014 or www.mdpl.org
The Miami Design Preservation League is a non-profit preservation and arts organization founded in 1976. It is devoted to preserving, protecting and promoting the architectural, cultural, social, economic, and environmental integrity of the Miami Beach Architectural Historic District (Art Deco District) as well as other areas of the city and South Florida, wherever historic preservation is a concern. MDPL is the oldest Art Deco society in the world.