Heart of a Chef Festival
Heart of a Chef, A Unique Culinary Experience is scheduled to take place on Sunday, April 19, 2009 at Jungle Island from 12PM-4PM. Discounted rate of $12 per person to Jungle Island with HOAC ticket.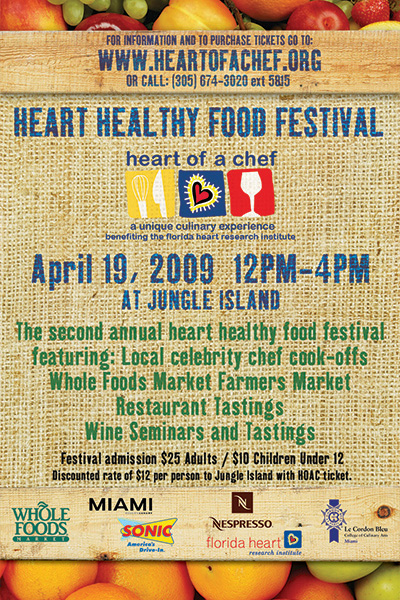 Sample local food and produce at the Whole Foods Market Farmers Market featuring: Rainbow Light, Chef Pascal, Branfords Originals, Barnard Nut Co., Jennifer's Homemade, Brimstone's Originals, Native Brewing Co., Bradford Tonic, Kopali Organics, Organix-South and many more!
Local Celebrity Chef Cook Off: Emcee-Ralph Pagano
Battle of the Male Chef's: Chef Jeff McInnis The Ritz Carlton South Beach vs Chef Sean Bernal The Oceanaire Seafood Room
Battle of the Female Chefs: Chef Sandee Birdson Top Chef Season 3 vs Chef Kira Volz Creek 28 Restaurant
Health Wine Seminars by: Vivian Lieberman – "The Truth Behind Rose's"
Barry Alberts – "Spain's New Vintages"
Local Chef Demo's and Interactive Area: "Brown Bag Basics – Lunches Made Healthy" with Jeff Applebaum
"Fresh & Easy Italian Salads and Homemade Mozzarella" with Chef Ken Lyon (Fratelli Lyon) and Chef Seth High (da Campo Osteria)
"Healthy Eating on a Budget" with nutritionist/author Ronni Julien
"Step into the Molecular Kitchen" with Chef Kurtis Jantz and Chef Chad Galiano (Neomi's Grill at the Trump Int.)
"Healthy Desserts" with Pastry Chef Malka Espinel
HEART OF A CHEF FESTIVAL ANNOUNCES 2009 SCHEDULE
Star Chef Line-Up for the Florida Heart Research Institute's Heart of a Chef Festival April 19
Benefiting and organized by the Florida Heart Research Institute, Heart of a Chef Festival, a fun-filled, family friendly day, jam packed with activities to heighten the awareness and knowledge of heart disease, prevention and heart healthy living, is holding its second annual event on Sunday, April 19 in the Tree Top Ballroom at Jungle Island, from noon – 4:00 p.m.
A homegrown event for locals and ideal for families, couples, singles or groups, attendees of Sunday's festival will revel in heart-health related activities including restaurant tastings, wine seminars and tastings, children's activities, cooking demos, and a local celebrity chef cook-off. A great bargain for all, tickets, which include all festival activities, are $25 for adults and $10 for children under 12. Making the deal even sweeter, the purchase of a HOAC Festival ticket entitles guests to purchase entrance to Jungle Island for the discounted rate of $12 per person. Event sponsors to date include Nespresso, Sonic, Whole Foods Market and MIAMI Modern Luxury. A detailed schedule of HOAC Festival events is below:
Celebrity Chef Cook-off
Emceed by Ralph Pagano of Hell's Kitchen
12:15 p.m. – 1:15 p.m. Sandee Birdsong of Top Chef Miami vs Kira Volz of Creek 28 Restaurant
1:30 p.m. – 2:30 p.m. Jeff McInnis of Top Chef, season 5 and Dilido vs Sean Bernal of Oceanaire
2:45 p.m. – 3:45 p.m. Winner from each previous round battles it out
Wine Seminars
12:30 p.m. – 12:50 p.m. The Truth behind Rose's, Vivian Liberman wine professor, Le Cordon Bleu
1:15 p.m. – 1:35 p.m. TBD
2:15 p.m. – 2:35 p.m. Spain's New Vintages, Barry Alberts
Kid's Demo and Chef's Interactive
12:15 p.m. – 12:30 p.m. Step into the Molecular Kitchen with Chef Kurtis Jantz & Chef Chad Galiano, Paradigm at the Trump International
12:50 p.m. – 1:05 p.m. Kids Demo: Brown Bag Basics – lunches made healthy with Chef Jeff Appelbaum, private chef
1:30 p.m. – 2:00 p.m. Fresh and Easy Italian Salads & Homemade Mozzarella with Chef Ken Lyon of Fratelli Lyonand Chef Seth High of de Campo Osteria
2:15 p.m. – 2:30 p.m. Healthy Eating on a Budget with Ronnie Julien, Julien Nutrition Institute
2:45 p.m. – 3:00 p.m. Fruit Desserts with Pastry Chef Malka Espinel of Johnny V Las Olas
*Schedule subject to change
For additional information, specific event times or to purchase tickets to the Heart of a Chef Festival on Sunday, April 19, call 305.674.3020 or visit www.heartofachef.org.
Through the mission to stop heart disease through research, education and prevention, the Florida Heart Research Institute has been an independent, non-profit international leader in cardiovascular research and education for over 60 years, employing a unique blend of scientific, clinical and collaborative research. FHRI also strives to benefit the South Florida community by providing free community prevention services such as cardiac screening in underserved and underinsured areas, as well as educational programs to prevent heart disease for all segments of the population, including in the workplace.