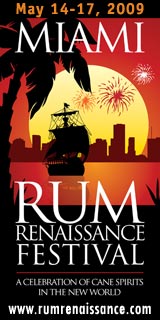 Rum Renaissance Miami Festival At The Shore Club
Rum is experiencing a Renaissance around the world as more savvy consumers discover the incredible flavors of fine rums from the Caribbean islands and every region of the Americas.
Mark your calendars now for one of the premier international rum events in May as Rum Renaissance Miami presents a unique and exciting celebration of the finest rums in the world, featuring a slew of great VIP parties, an exhibition of the best rums in the world, seminars and workshops, an opportunity to rub shoulders with dignitaries and notable experts, plus a big beach and pool party event celebrating island cultures with live music, great food and an amazing array of tropical libations…
The Location
Rum Renaissance takes place in the sub-tropical wonderland of Miami's golden beaches at the world famous Morgans Hotel Group resorts on Miami Beach. Experience the Shore Club's Sky Bar, the Delano's Florida Room and the Mondrian's Sunset Lounge, three of Miami Beach's most exciting hotspots. Sample the world's finest rums in this magical setting amongst the palm trees, the gentle ocean breezes and the natural beauty of South Florida.
The Grand Tasting Event
The Grand Rum Tasting Exhibition on Saturday, May 16 will include a plethora of fine rums from the Caribbean and beyond. Sample the finest rums from each island, from each category and from each notable brand.
The Celebrity Seminars
Seminars and lectures will be presented by a veritable who's who list of experts from the rum manufacturing, distilling and blending world, as well as luminaries of the cocktail mixologists universe, offering insightful programs to consumers and members of the trade.
The Rum Tasting Competition
Rum Renaissance is host to Ed Hamilton's Ministry Of Rum Tasting Competition, where more than one hundred rums from around the world will be judged by an all-star international cast of distillers, mixologists and spirits journalists gathered in Miami Beach.
The VIP Parties
Be there for these very special rum-themed events, hosted by the best rum companies in the world and great locations around Miami Beach, featuring fine rums, great food, music and island culture.
The Tropical Libations
The world's finest bartenders and mixologists will be in attendance, producing exotic libations with world-class rums to delight and amaze rum enthusiasts.
The Big Beach And Pool Party
On Sunday, May 17, we'll all gather around the pool at the Shore Club after 2pm to enjoy the sun and fun. Chill out, decompress, mingle with rum experts and enthusiasts from around the world and enjoy living the great rum lifestyle on the beach.
Make plans now to experience Rum Renaissance Festival in Miami — May 14-17, 2009. Purchase tickets online at www.RumRenaissance.com