Petanque Tournament
Starting April 7 from 6 to 8 p.m.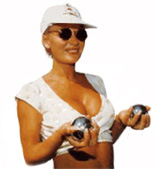 Something new has been added at the Biltmore's Boules Bar! Every Tuesday the Biltmore will be hosting Petanque tournaments, a game enjoyed by several million people in France. It's a form of boules where the goal is to throw metal balls as close as possible to a small wooden ball called a cochonnet (jack). Perhaps best done with a sparkling glass of champagne in one hand. The competition is lighthearted – for beginners and experts alike – with the emphasis on fun and socializing. Specialty cocktails will be available at half price. The Boules Bar (also called the Cascade) is located next to the pool. Call or email to register for the tournament. rcastillo@biltmorehotel.com
Biltmore Hotel, Boules Bar
1200 Anastasia Avenue, Coral Gables
305-913-3185
Thank you for using Soul Of Miami!