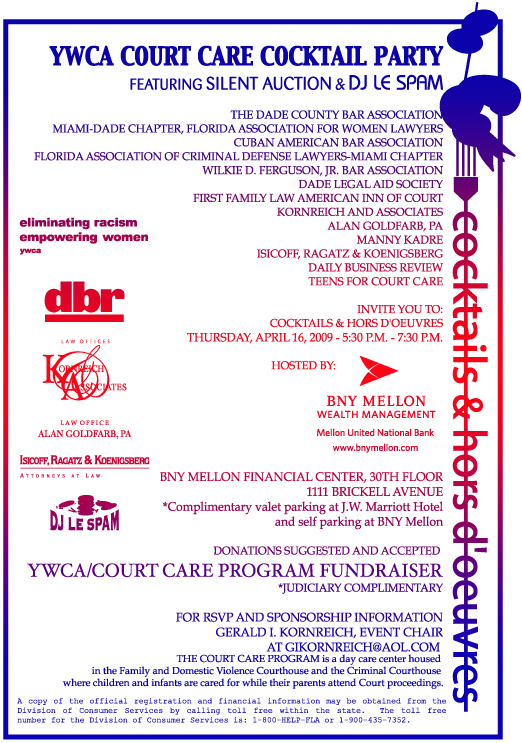 An event you won't want to miss with the who's who of Miami in attendance and all to benefit the YWCA's Court Care Program.
This program, the first of its kind in South Florida, provides drop-in day care for families attending Family & Domestic Violence Court as well as Criminal Court. Services are provided free of charge.
Guests will be provided with cocktails and heavy hors d'oeuvres while shopping in the silent auction and listening to the sounds of DJ LeSpam.
Sponsorship packets are available with individual donations being accepted and welcomed throughout the evening.
All proceeds of this event will benefit the YWCA of Greater Miami-Dade and are fully tax-deductible as allowable by law.
Thursday, April 16, 2009
5:30pm – 7:30pm
BNY MELLON
1111 Brickell Avenue – 30th FLOOR
Miami, FL
Court Care A Better Place to Be
The YWCA Court Care: A Better Place to Be provides a safe and secure drop-in child care facility for children while their parents/guardians are in court proceedings.
The YWCA of Greater Miami -Dade opened the first Court Care Center in 2000 and operates solely for the purpose of "an intervention and prevention program."
Since the inception of this program, a total of 2,717 children have been provided services.