The Entertainment Industry Incubator,
in association with the Miami International Film Festival,
continues its seminar series with accomplished Florida filmmakers.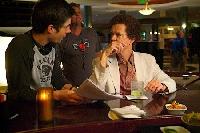 FREE FILM INDUSTRY SEMINAR
A Conversation with Filmmaker Brian Hecker
Wednesday, April 1 @ 6:30pm
Miami Science Museum,
3280 S. Miami Ave, Miami
Across from Vizcaya. Ample free parking is on-site.
Hecker grew up in South Florida, the setting of his new autobiographical feature film Bart Got a Room, which opens April 3 at AMC Sunset Place and Aventura. The film stars William H. Macy, Jennifer Tilly and newcomer Steven Kaplan in an off-beat coming-of-age comedy shot entirely in Florida. Hecker received an MFA at the American Film Institute where he was awarded 'Director of the Year'. His short thesis film Family Attraction, starring Martin Sheen and the late Chris Penn, earned over a dozen national and international film festival awards. Paramount Pictures has recently hired Hecker and his writing partner to write a biopic for Leonardo Dicaprio about the 29-year-old rebel-genius Nolan Bushnell who, in 1972, created Pong and started Atari. Brian Hecker has recently joined the Miami Filmmaker Project Advisory Board.
This event is part of the Entertainment Industry Incubator Miami Filmmaker Project.
For more information, visit www.eincubator.org or email info@eincubator.org.