MGLFF NEWS AND EVENTS
SUPPORT YOUR FESTIVAL
We're working to make it easier for you to support YOUR festival! Check out our new membership prices here!
PEDRO
Colony Theater
SUNDAY, MARCH 22ND @ 7:00pm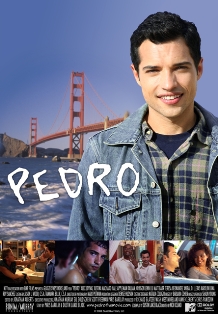 In 1994, Bunim/Murray Productions made the groundbreaking decision to cast openly gay, HIV-positive Cuban-American and Miami resident Pedro Zamora as part of MTV's The Real World: San Francisco. Zamora's time in the Real World house on Lombard Street brought a face to the AIDS crisis; and U.S. President Bill Clinton credited Zamora with personalizing and humanizing those with the disease.
PEDRO celebrates the extraordinary life of Pedro Zamora, a young man who when he found out he was HIV positive at 17, made the courageous decision to dedicate the rest of his life to speaking out about his condition in an attempt to raise awareness about the disease in his community, even testifying before the United States Congress to argue for more explicit HIV/AIDS educational programs aimed at youth of color before auditioning for The Real World in 1993. His appearance on The Real World brought his story and his message to MTV's youthful audience and beyond, and when Zamora's health began to deteriorate in late 1994 (after he left the show), it became front page news nationwide, and his death at age 22 provoked a worldwide outpouring of grief. This amazing feature film was written by ACADEMY AWARD Winner Dustin Lance BLack (MILK) and features a stellar performance by Miami resident Alex Loynaz as Pedro.
DONT MISS THIS OPPORTUNITY TO MEET THE CAST OF PEDRO & MEMBERS OF THE ZAMORA FAMILY!
Tickets on sale now!
Members $7.00 – PURCHASE TICKETS
Non-members: $11.00 – PURCHASE TICKETS