It is a journey of 8,110 miles from Miami Beach to the capital of Malawi but on Saturday, March 21st the Raising Malawi Miami will bring a bit of the nation known as 'the warm heart of Africa' to ICON Brickell.
7pm – 9pm Cocktail Reception, Silent Auction, Networking and Exclusive Mini Tours of ICON Brickell
9pm – 11pm Open Bar, Hors d'oeuvres, Raffles, Music, Entertainment, Brief Presentation & Much More
Minimum Donation $42 in advance ($55 at the door) all proceeds to benefit the Raising Malawi Organization
To purchase tickets online visit www.raisingmalawi.org/raisinghopeevent.php
Complimentary valet parking
Official after party at KARU & Y , VIP Entrance included with donation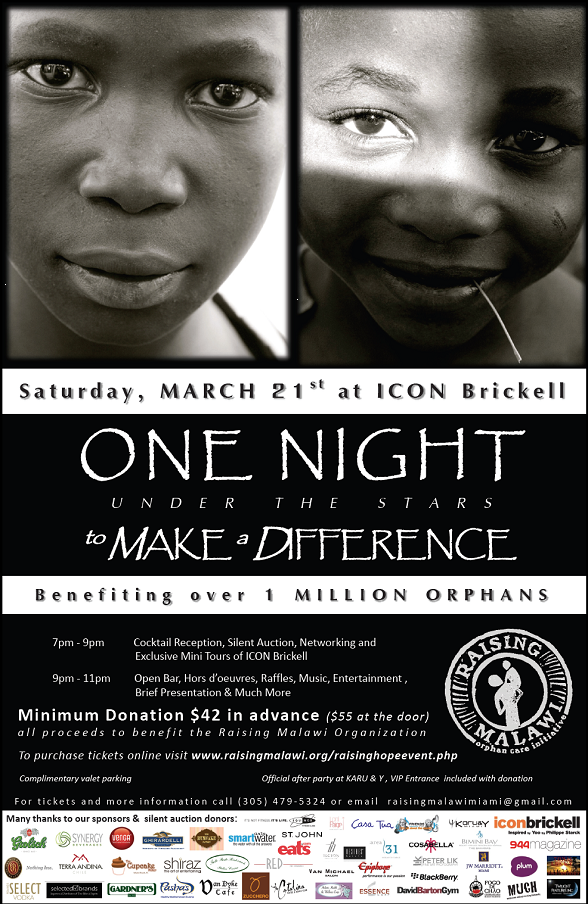 For additional information, please contact Raising Malawi Miami 305-479-5324 or raisingmalawimiami@gmail.com.
Hope to see you there!!!!