An invitation to you to attend the exclusive Green Fashion Week Event next Saturday Evening, March 21st, featuring international designer Eva Danielle with a runway show at Casanova Lounge and Suites, 524 Ocean Drive. Show seating begins promptly at 11pm. Green carpet photo opps will go until 11:45pm, contact caitlinelectra@gmail.com to arrange.
Please refer to the Lifestyle Showcase Pricelist and email caitlinelectra@gmail.com to reserve your table (in advance, a must). Lifestyle Showcase VIP guests will enjoy Couture Runway Seating and Bottle Service with Fine Meditteranean Cuisine before and during the runway show, as well as Champagne VIP Room, Gifting Lounge, and Champagne Toast.
The party will continue the next morning with VIP guests at a Sunday Brunch at the Eva Danielle boutique in Bay Harbor Island. At both events guests will enjoy the opportunity to meet artists, the designer and her family, other young professional VIPs, and to purchase items on-the-spot with deep discounts. This event will kick off a series of monthly green fashion events meant to raise awareness and incorporate the work of local talent on a global scale. Each event will follow this precedent as your senses will be delighted in the melange of shows and atmosphere that we have created for everyone to enjoy!
This event is invitation only for the VIP and RSVP is an absolute necessity. Tables are going fast.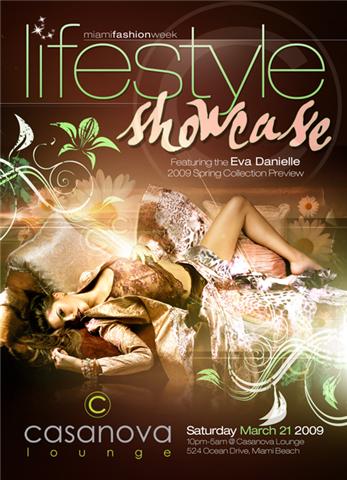 2009 Lifestyle Spring Showcase: Eva Danielle
Casanova Lounge
524 Ocean Drive
Miami Beach, Fl 33139
Saturday, March 21, 2009 *Show Seating Begins Promptly At 10:00pm
Exclusive Boutique Breakfast Party
Eva Danielle Bay Harbor Boutique
1075 Kane Concourse
Bay Harbor Islands, Fl 33154
Sunday, March 22, 2009 *9:00am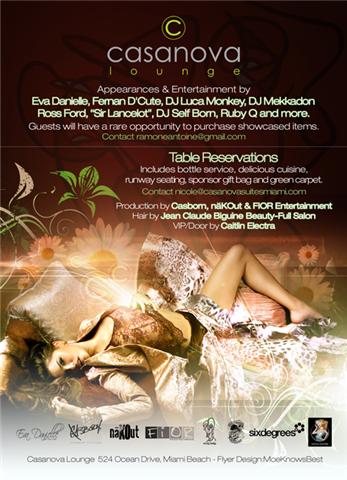 A showcase of designers, artists and performers during Miami's Fashion Week, Eva Danielle will preview her Spring 09 collection to an exclusive audience. Casanova Lounge, an eco-friendly and trend-setting place to be, will host this special event. Casborn is the production designer and has partnered with the director of naKOut, Kaaren Alise, to develop an elaborate, creative, and socially conscious showcase. Creative Genius from FIOR will coordinate a scintillating fashion unveiling of Eva Danielle s creations. The display will feature vibrant and energetic designs along with some of the most beautiful women in Miami s fashion scene.
Local icon and performer Fernon D'Cute will be the guest of honor for the evening of festivities. Eva Danielle will reveal her Spring 2009 line in an unconventional fashion show. Fine artist Ross Ford will premiere a rare collection of original pieces that compliment Danielle's style. An elegant burlesque cabaret performed by world-renowned Ruby Q Dancers will tease the senses. Music by DJs Self Born, Luca Monkey, and Mekkadon will provide sounds for the evening. Casborn and Sick Bastard Choppers will display a collection of designer bikes and luxury vehicles on Ocean Drive and throughout Casanova Lounge. the infamous and award-winning motorcycle Sir Lancelot will be showcased in the VIP champagne Room courtesy of Scik Bastard Choppers.
Guests wil have a rare chance to purchse the fashions, artwork, designer bikes and luxury vehicles on display. It is sure to be a night of celebrity appearances and fashionable entertainment.
RSVP to caitlinelectra@gmail.com