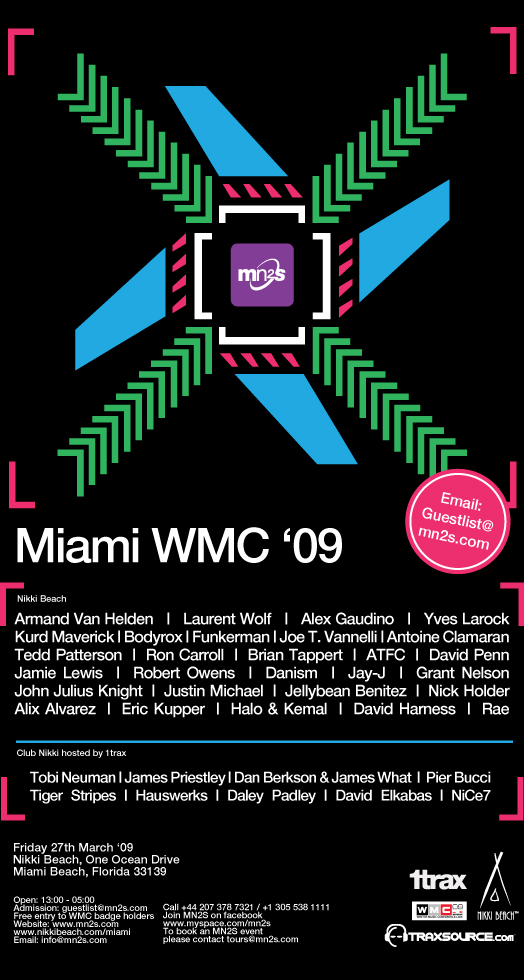 Friday 27th MARCH '09: MN2S @ Nikki Beach, Miami Beach
It's that time again, when Europe is under a grey cloud the dance music fraternity pack their records and CDs and head to the warmth of Miami's South Beach for the Winter Music Conference! On Friday 27th March MN2S join the annual mix of world class DJs and party Miami-style for an explosion of music mayhem.
For the 5th year running MN2S return to the Miami Winter Music Conference and for 2009 the London based label make their debut at the world famous Nikki Beach. Considered by many as the hidden jewel of South Beach, the venue is located at One Ocean Drive along the beautiful Atlantic Ocean amid swaying palms trees and warm sunny breezes. Nikki Beach has established itself as the landmark for ultimate parties, celebrations, and entertainment and always lives up to it's reputation as a party playground for jet setters, celebrities, VIPs, guests and visitors alike. Nikki Beach Miami is comprised of a large oceanfront complex featuring an outdoor beach club, restaurant and nightclub with a capacity of 2500 people. MN2S will be starting the beach party at 1pm and will run all the way through to sunrise !
In true MN2S style we've brought in the worlds best DJs to entertain ensuring that the MN2S Miami party is an event not to be missed! Headlining the party is the Grammy Award nominated DJ/Producer/Remixer, Armand Van Helden. Based in NYC Armand's studio skills have helped A List musicians such as The Rolling Stones and P.Diddy diversify their sound and as well as being an accomplished producer, Van Helden is also a stellar DJ. With a beach party and 2 separate areas inside Nikki Beach our headliner as well as Laurent Wolf, Kurd Maverick, Joe T Vannelli, Ron Carroll; and the 1trax room with James Priestly & Tobi Neuman will provide a sound tailored to every dance enthusiast's taste.
The entire event will be guestlisted so all you have to do is send your full name and email address to guestlist@mn2s.com for a night that promises to be one of the highlights of the Conference.
Confirmed Line Up:
MN2S: Armand Van Helden, Laurent Wolf, Alex Gaudino, Yves Larock, Kurd Maverick, Bodyrox, Joe T Vannelli, Antoine Clamaran, Funkerman, Tedd Patterson, Ron Carroll, Brian Tappert, ATFC, David Penn, Jamie Lewis, Robert Owens, Danism, Jay-J, Grant Nelson, John Julius Knight, Justin Michael, Jellybean Benitez, Nick Holder, Alix Alvarez, Eric Kupper, Halo & Kemal, David Harness, Rae
1trax: Tobi Neuman, James Priestley, Pier Bucci, Tiger Stripes, Hauswerks, Daley Padley, David Elkabas, NiCe7
RSVP: guestlist@mn2s.com