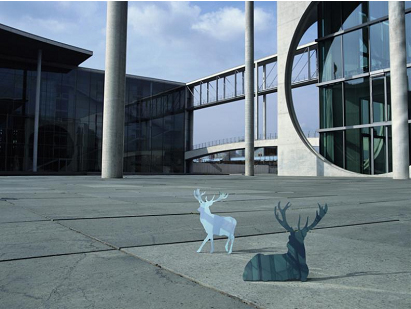 Donated Art Aids Exhibition Program Purchase a ticket for a chance to win the above artwork by visiting www.becagallery.com
BECA gallery | New Orleans has been the fortunate recipient of a very generous gift which offers the opportunity to continue the gallery's exhibition program in New Orleans dedicated to providing exhibition opportunities to innovative emerging artists + designers from around the globe. This gift also gives art enthusiasts the opportunity to win a beautiful work of art valued at $3,600 USD for the price of a $5 USD ticket! To aid the gallery, one of its earliest and most enthusiastic supporters has graciously donated to the gallery the gift of the beautiful photographic work titled, 'Red Deer – Bibliotheque German Parliament – Berlin' by renowned London based artists Maslen & Mehra. The work is Limited Edition No. 3 of 5, Durst Lambda print on aluminum and silicon mounted acrylic (pictured above). This work and the artists were first introduced to the southern United States last April during BECA gallery's group exhibition "MIRROR for the 21st Century" with guest curator, Helen Pheby, PhD.
BECA gallery will hold an Art Drawing for "Red Deer – Bibliotheque German Parliament – Berlin" to hopefully prevent the end of their exhibition program which has proven to be beneficial to many
within the local, national and international arts communities. Within its first year of 2008 alone, BECA gallery has given exhibition opportunities to 91 local, national and international emerging artists via its physical gallery space in New Orleans as well as here on-line. Maslen & Mehra "engage in a powerful dialogue on the natural and human world in which we live". When their work arrived at the gallery, Roberts and Schlough were captivated by the beautifully staged narrative scenes within their photographs and their choice of landscapes and architectural settings from around the world. Their placement of reflective sculptural silhouettes within these environments results in a glimpse into a possible parallel universe as suggested by art critic and art historian Edward Lucie-Smith. Additional images and information on Maslen & Mehra may be found here and here, respectively.
The opportunity to win this piece valued at $3,600 USD via this Art Drawing is very rare and would not have happened if not for the generosity of a fellow art lover. In addition, BECA gallery wishes to thank artists Maslen & Mehra who have generously donated a copy of their first monograph titled, 'MIRRORED' highlighting their many years of collaborative practices and unique works which have brought them international critical recognition, as a secondary prize for this Art Drawing. The hardcover monograph is 184 pages including 120 color photographs. One winning ticket will be drawn for the artwork and a second winning ticket will be drawn for the monograph. Anyone from any country may purchase tickets. The ticket price is $5 USD per ticket and you may purchase as many tickets as you wish either here online or at the gallery location at 527 St. Joseph Street, New Orleans, LA 70130. You may also mail your ticket purchase made payable to BECA gallery to the aforementioned address. (Much better odds than the lottery and it aids a great emerging art exhibition program!) 'Red Deer – Bibliotheque German Parliament – Berlin' is currently on view at BECA gallery. On March 15th, one lucky winner's name will be drawn to become the new owner of this beautiful artwork and we will also randomly draw a second lucky winner's name to be the recipient of the Maslen & Mehra monograph 'MIRRORED'.
If shipment outside of New Orleans is required, BECA gallery will share equally with the winner in the costs of the least expensive shipping method. Any costs associated with the exporting or importing of these prizes abroad will be the responsibility of the winner. THANK YOU ALL in advance for purchasing tickets and for helping to spread the word about this Art Drawing.