In honor of Women's History Month, Miami-Dade County's seven (7) female municipal mayors will unite on Thursday, March 26, 2009 during the 1st Annual Miami Beach Women's Conference to address the unique issues facing today's female.
The event, organized in part by Miami Beach's first female mayor, Matti Herrera Bower, will convene world-class speakers and women from across South Florida to discuss women's role and impact on politics, finance, wellness, the modern family and corporate America.
Targeting women of all ages and economic sectors, the event will include safety programs, self-improvement sessions, dialogues on how to balance modern demands with traditional responsibilities, panels with successful and influential women, business skills workshops and a "Lunch at the Garden" featuring food tastings by top female chefs.
The 2009 Miami Beach Women's Conference will be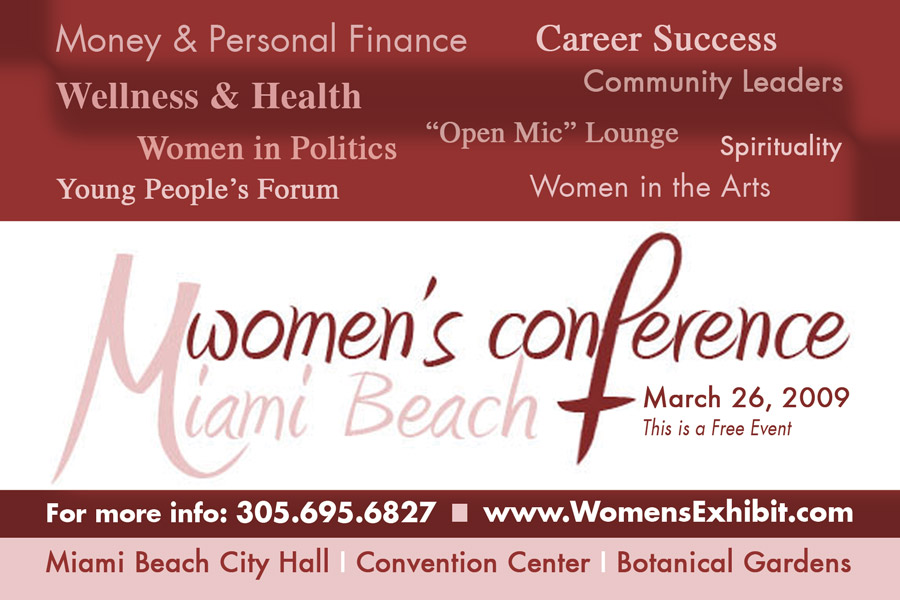 OPEN TO THE PUBLIC WITH FREE ADMISSION
WHO: Miami Beach Mayor Matti Herrera Bower plus six other
Miami-Dade County female mayors, world class speakers
and South Florida women
WHAT: 2009 Miami Beach Women's Conference
WHEN: Thursday, March 26, 2009, 8:00 am – 6:00 pm
WHERE: Miami Beach Convention Center
A separate cost of $19.15 includes lunch and a wine-tasting/dessert after-party at the Botanical Gardens.
Website