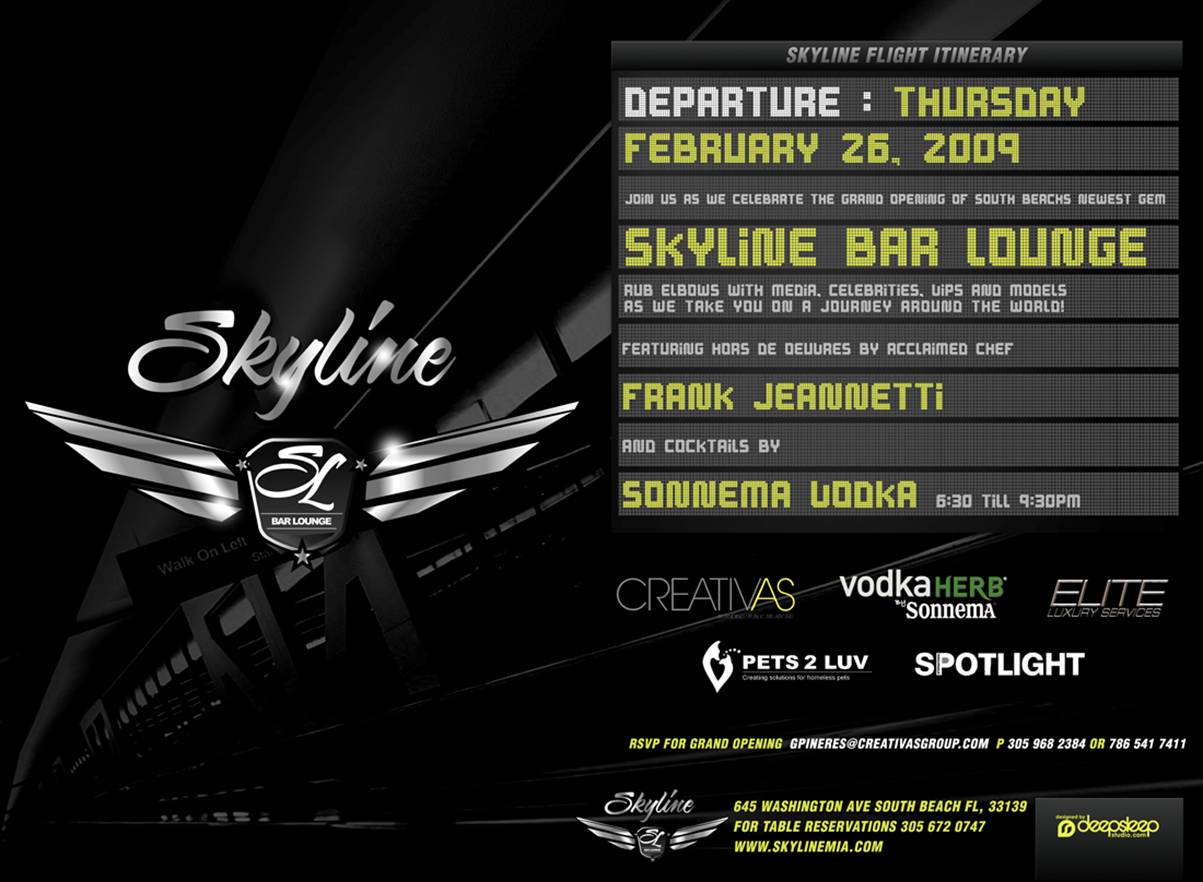 Please join us for the official launch party of Skyline Lounge…………… Cocktail reception from 6:30 to 9:30 compliments of Sonnema Vodka
SKYLINE LOUNGE MAKES MIRACLE LANDING ON SOUTH BEACH
( Miami , FL ) February 23, 2009— Miami , Florida- Night life in South Florida is about to be taken to new heights as the newest "Big Apple" import just made a miracle landing in South Beach . The airline themed Skyline Lounge is ready to take guests on a first class voyage as they open their doors Thursday Feb. 26, 2009, from 6:30-9:30pm for a media and cocktail reception hosted by dynamic duo (and siblings) Wilson and Felix Reynoso.
"Wilson and Felix are duplicating the same idea that they successfully launched in the city that never sleeps," said Bobby Brandt, consultant. New York , where the party never ends was the launch pad for the Reynoso's flight inspired idea. They went as far as to remove seats, windows, overhead compartments, turbines, and a cockpit from two retired airplanes to adorn Skyline. Skyline is an intimate lounge geared for high end consumers who want to escape the "usual" night clubs that dominate South Beach .
Imagine making your way through the front door and being met by fabulous greeters dressed in flight attendant outfits. As your move through the venue your eyes focus on the two spinning turbines that emit nitrous set up behind the bar that is made up of a DC-9 wing. The typical lounge furniture found in most other venues is no where in sight as airline seats are set up through out the space. The First Class Seating area or what other venues call the VIP section is carefully segregated for those that enjoy some exclusivity. A certain attention to detail is quite apparent as usable overhead compartments are set up around the lounge to serve as a convenient resting place for personal items and the purses of Skylines female patrons. What better way to show off a DJ's influence over a crowd than to ordain him the pilot of the venue? The center piece is a cockpit removed from a DC-9 which dominates the back wall and serves as the DJ booth.
For in-flight bites, Skyline has enlisted the right talent. Boasting an eclectic menu that was created by acclaimed Chef Frank Jeannetti Skyline offers bite-sized palate pleasing dishes from all over the globe. Jeannetti has a good understanding of what the high-end consumer wants, having created menus for some of North America's leading restaurants and having worked with some of Tinsel-town's and Miami's most finicky stars and celebrities including: Gloria and Emilio Estefan, Will Smith, Hulk Hogan, and Ozzy and Sharon Osbourne. Featuring dishes from Cuba , Vietnam , Hong Kong, and the Middle East , Chef Jeannetti has created a culinary mix for Skyline sure to make patron's stay a worldly one.
To get this tolling smoothly here in the city of beaches and palm trees, the Reynoso brothers carefully selected the consultation of nightlife veteran Bobby Brandt. Mr. Brandt has over two decades of experience in the night club and service industry in both New York and Miami respectively, owning and operating a total of nine successful club venues and highly acclaimed restaurants. His professional capabilities include: construction, design, layout, bar design and functionality, POS systems, liquor ordering, securing sponsorships, sound systems, house PA, and lighting. He has as acted as City liaison for himself and clients, including licensing and permits, fire department regulations and codes, occupancy, insurance, legal requirements, and negotiating terms. In this capacity, he is greatly responsible for the "launch" of Skyline in South Florida .
Thursday, February 26, 2009 marks the departure date as Skyline celebrates a fabulous grand opening and welcomes VIPs, media, and celebrity guests. Invitees will be treated to a reception from 6:30 pm to 10:00 pm featuring delicious hors de oeuvres and sponsored by Sonnema VodkaHERB. The grand opening not just represents a change in Miami night life but will also benefit the Pets2Luv organization.
ABOUT PETS2LUV
Pets 2 Luv, Inc. started as a dream in the mind of a little boy with a big heart who wanted to save every animal in need, his name is Joan A. Sanchez, a young man now who has dedicated his entire life to saving animals from the streets. In June 6, 2006 he became the founder of Pets 2 Luv, Inc. a Florida Non-Profit Organization that will strife to see that dream come true. Our vision is to create the largest Pet Foster Network in the United States . For more information: http://pets2luv.org
Skyline is ready to change Miami 's view of the ultra lounge. Have your passport ready as Thursday February 26, 2009 marks the beginning of a new era on South Beach . Skyline is located at 645 Washington Avenue , Miami Beach , FL 33139 . For bottle reservations please call 305.672.0747 and online visit www.skylinemia.com.
Promotional Partners for this event include: Sonnema VodkaHERB, One Source Branding, Elite Luxury Services, Got it Concierge, Spotlight International Magazine, Two Mundos Magazine, and South Beach Cigar Shop.
For RSVP, media inquires and interviews, please contact Creativas Group at info@creativasgroiup.com or 305.968.2384.
Creativas Group Inc. provides public relations and marketing counsel to South Florida-based businesses, nationally recognized special events and leading non-profit organizations. For more information, please log onto www.creativasgroup.com or email info @ creativasgroup.com. Photographs and interviews are available by request.