Florida International Magazine says "Miami Light Project has been grooming future stars for years" and this year is no different as we continue our ground-breaking commissioning/presenting partnership with the Arsht Center. Here & Now yields an annual bounty of innovative, eye-opening new works; up-close-and-personal world premieres in the Studio Theater featuring some of Miami's most promising emerging artists.
Elizabeth Doud & Jennylin Duany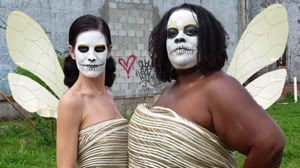 Sipping Fury From a Tea Cup
Choreography, photographic studies of insects and the animal world, and an originally crafted musical sound-scape explore the mystery of the recent disappearance of bee colonies known as the Colony Collapse Disorder. Elizabeth Doud & Jennylin Duany direct a stage wide traffic jam of remote controlled cars and invite you to a very unique tea party in Sipping Fury From A Tea Cup.
Rosie Herrera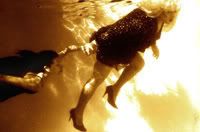 Various Stages of Drowning: A Cabaret
Choreographer Rosie Herrera recreates dream states through dance, theater, cabaret, opera and surrealism using water as a metaphor for the unconscious. Featuring a cast of 14 dancers, singers, bakers and drag queens and 10 birthday cakes that take you on a vivid journey through dreams and drowning.
Alexey Puig Taran


Symbol
From aerial dance and video-art to music, words and improvisation, Guggenheim dance fellow Alexey Puig Taran's Symbol explores the boundaries of poetry where color, beauty, desire, and faith incorporate us into the cosmic order. Dancers fly, suspended from the ceiling as rain washes down on them in a vivid display of athletic grace.
Miami Light Project & Adrienne Arsht Center
present
Here & Now: 2009
featuring new works by
Elizabeth Doud & Jennylin Duany, Rosie Herrera and Alexey Puig Taran
March 5-7, 2009, 7:30pm
Adrienne Arsht Center for the Performing Arts, Carnival Studio Theater
1300 Biscayne Blvd, Miami, FL
Tickets: $20.00
Miami Light Project's Here & Now program is one of the 31 inaugural grant recipients of the The John S. and James L. Knight Foundation Knight Arts Partnership Program.
Since 1999, 65 South Florida based artists have been commissioned for Here & Now. Over 30 of these artists have gone on to perform in 14 states and 15 countries for an estimated world wide audience of over 20,000! Join us again this year as South Florida artists continue to leave an indelible mark on the South Florida Cultural landscape!