Miami-Italia International
Friday & Saturday, February 20 & 21 at 8 p.m.
From the comically edgy and ethereal to the precisely executed and zany, Miami Contemporary Dance Company presents two new world premieres in Miami-Italia International. The performance features the works of two award winning choreographers, Ray Sullivan of Miami Contemporary Dance Company and Paolo Mohovich of Balleto dell' Esperia. The evening opens with the world premiere of Mohovich's "Strange News From Another Star". Taking chances, Mohovich plays between unison phrases and frenetic abandonment with a masterful focus on the structural and artistic integrity of the piece. The second half of the evening features the world premiere of "Nonna's Pasta Dances." The piece is based on the childhood experiences of Ray Sullivan and the time he spent with his italian grandmother when she prepared holiday feasts and family dinners. Sullivan takes these memories and introduces us to crazy, over the top characters and zany, off- the-wall dances. The result is a comedic tribute to all things Italian-American! For more information about Miami Contemporary Dance Company, call 305-865-6232. Tickets are $20, $25, $35 and limited Student and Senior tickets for $15 and can be purchased at the Colony Box Office or through Ticketmaster.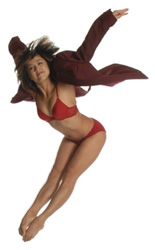 Colony Theater
1040 Lincoln Road, Miami Beach
305-674-1040 (Box Office)