Kick off the weekend right this and every Friday for South Beach's hippest new happy hour, Deco Fridays. This week we welcome local favorite DJs Satan & Stephney on the turntables.
Deco Fridays is held in the Lounge in the Shelborne Hotel from 6pm-2am with drink specials all night and free light appetizers from 6-8pm. Full menu available. Special prices include $6 Stolis and $4 Domestic Beer! Never a cover, nice brand new couches to relax on (no, you don't have to buy a bottle to do so), room to dance if you feel like jamming, clean bathrooms and a chill vibe. Locals and business professionals as well as tourists are welcome. Flyer attached.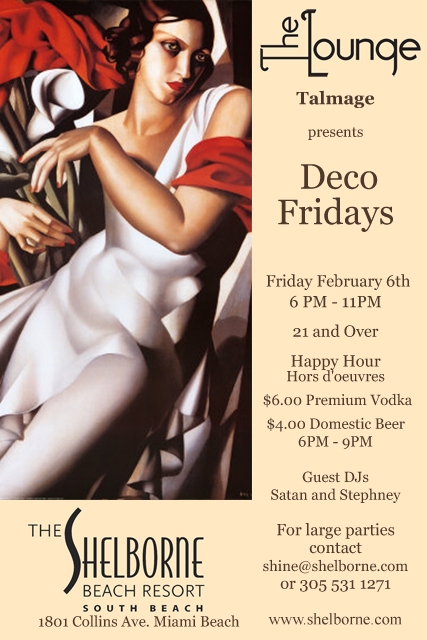 Parking is available at 2100 Collins Ave just east of the Bass Art Museum and is only $2 for Miami Beach residents.
*Deco Fridays*
Shelborne Hotel Lounge
1801 Collins Ave.
[The lounge is straight back and to the left of the main lobby corridor]
Contact: Miguel Contreras 305-531-1271