Please join me this Friday for a marathon night of music, mingling and dancing. This week the party starts at Deco Fridays with local favorite DIAGA and migrates into Shine around 11pm for world renowned DJ Dave Seaman.
Deco Fridays is held in the Lounge in the Shelborne Hotel from 6pm-11pm with drink specials all night and free light appetizers from 6-8pm. Special prices include $6 Stolis and $4 Domestic Beer! This Friday we welcome special guest DJ DIAGA. Never a cover, nice brand new couches to relax on (no, you don't have to buy a bottle to do so), room to dance if you feel like jamming, clean bathrooms and a chill vibe. Locals and business professionals as well as tourists are welcome. Flyer attached.
ANY person who joins me for Deco Fridays in the lounge can come into Shine free on my list to hear legendary DJ Dave Seaman! Shine will be open from 11pm – 5am
Parking is available at 2100 Collins Ave just east of the Bass Art Museum and is only $2 for Miami Beach residents.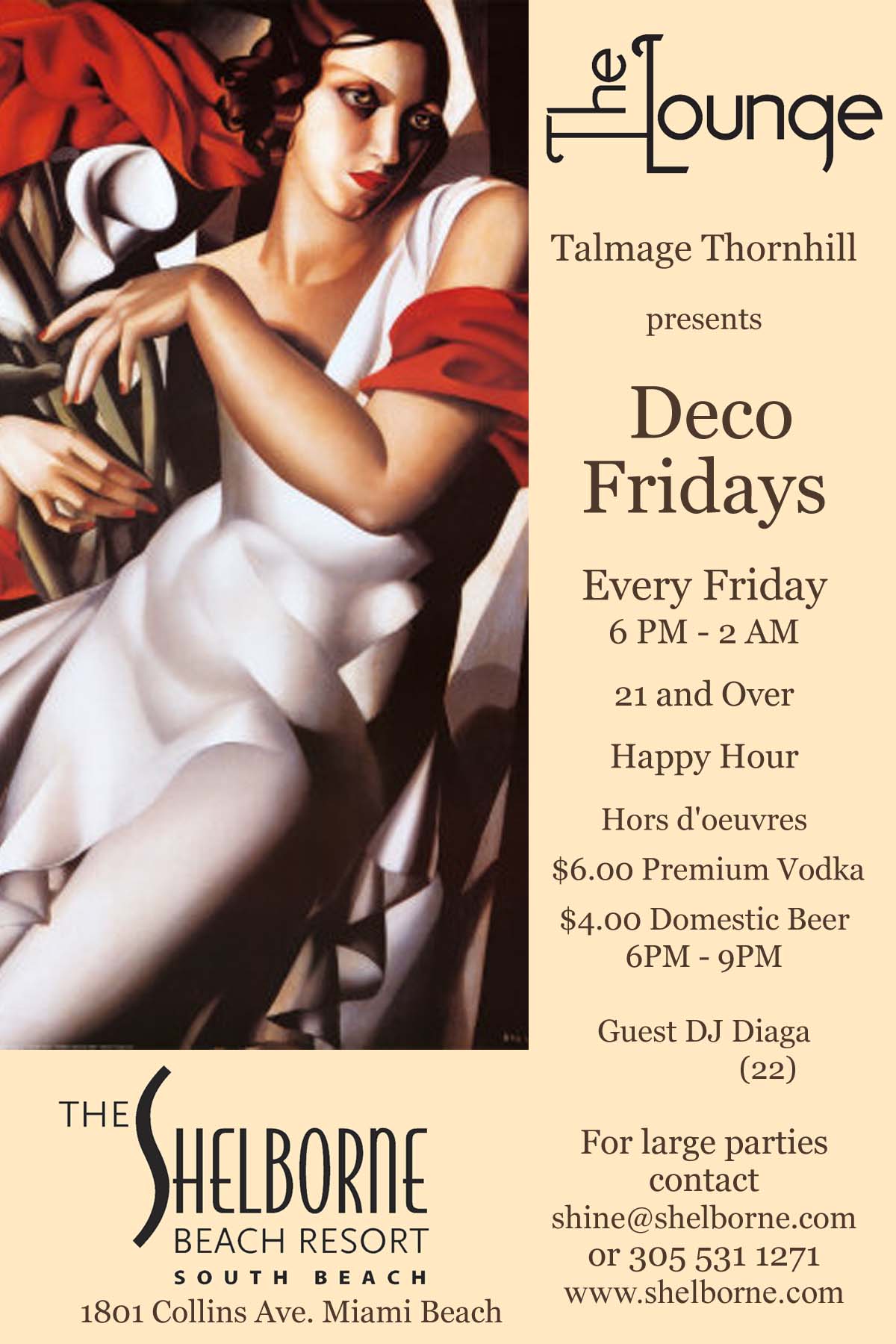 *Deco Fridays*
*Shine Nightclub*
Shelborne Hotel Lounge
1801 Collins Ave.
*The lounge is straight back and to the left of the main lobby and the club is in the back of the hotel on the left.*
Dave Seaman and Dennis Ferrer come to SHINE @ The Shelborne Friday Jan 30, 2009.
Dave who has a residency at Shine returns with some new singles and with a his Gobbledygook part 3 & 4 that can be heard on his myspace.com site. Playing with Nick Warren at WMC09 in March, Dave explains "A new Dave Seaman single is finished and ready to roll. It's a double header with the lead track being 'Attack Of The Abalones' and the other entitled 'Wrong Side Business' and I'll be road testing them over the coming weeks so keep your ears peeled. Also, I'm pleased to announce that I'm planning to release two mix CDs this year with the first being the second installment of This Is Audio Therapy and the other being another collaboration with my long time friends and colleagues at Renaissance"
This double bill, has New Jersey master, Dennis Ferrer, who is known for his mixes of Dido which you can enjoy on his myspace site, but his "Soul Tech" sound precedes him. If you haven't experienced him in the past do not miss this party…. Defected "in the house" album in 07 and continuous touring, brings the NJ boy back to Miami and Shine. His forward thinking approach to production, and melting of sounds from the past and present, makes this a perfect and Special team for the night. Both Dave and Dennis are Strong in their fields, and if your sick of the same thing all night long you wont find this here. This mixed bag of Music is not to be missed by locals and tourists alike, all bets are off this is sure to be a fun night. Drink Specials, and new floors, leather walls, tweaked sound by Steve Dash, Shine is ready to rock the beach with a series of special events for 2009.
http://www.djdaveseaman.com
http://www.myspace.com/daveseaman
http://www.myspace.com/dennisferrer
http://www.shinesouthbeach.com
http://www.myspace.com/shinemiami
http://www.shelborne.com