The third annual Bonita Blues Festival will be held on Saturday, March 14, 2009 from noon – 8:00 p.m. at Riverside Park in downtown Bonita Springs, FL. The festival will feature top-notch blues music, and a wide variety of food and other vendors.
The bands scheduled to perform can all be described "headliners". They include: Joey Gilmore, along with his band, who took 1st place honors in the 2006 International Blues Challenge band division. The 2006 International BLUES Challenge called them "…the best unsigned band on the planet"; Albert Castiglia, with his incendiary electric and slide guitar work and soulful vocals, has been nominated for a 2009 Blues Music Award for best song, "Bad Year Blues"; The Jony James Blues Band whose first Blue Wave CD, "In This World", was released internationally and rose to number five album of the year in "The Detroit Metro Times"; Rastus Kain, who has been described as the finest electric slide guitarist in the state of Florida, if not the whole South, and is also an extremely gifted songwriter; and Tommy Lee Cook, Danny Shepard and the All Stars, known in southwest Florida as the best of the best, will feature their brand of Southern-tinged Chicago blues. In addition, the celebrity emcee for part of the festival will be television personality, Stacey Adams, of WINK-TV NEWS.
Proceeds of the Bonita Blues Festival will benefit the Bonita Springs Assistance Office. Since its founding in 1979, the Bonita Springs Assistance Office has been recognized as the primary social service agency in the area. Generous donations have enabled the assistance office to continue to provide to those in our community who are less fortunate. The Bonita Springs Assistance Office believes in providing a "hand up" and not a "hand out." The assistance office extends the helping hand of assistance, shows clients who are able to work how to locate jobs and become productive members of the community, and specializes in working with elderly residents and families with young children. All donations remain in this area to benefit residents in crisis. Over the years, these emergency programs have helped thousands of residents get back on their feet.
Tickets to the festival are $10 per person in advance and $15.00 at the gate. For additional information and tickets, visit www.bonitablues.com or call (239) 947-0715.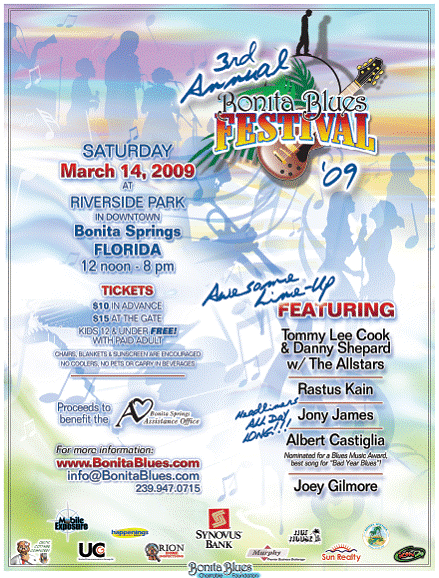 CONTACT: The Bonita Blues Charitable Foundation, info@bonitablues.com, or (239) 947-0715.
WEB SITE: http://www.bonitablues.com