The Coconut Grove Chamber of Commerce presents
Dinner and a Movie
our series of food-themed movies
with dinner and a drink
Thursday, January 29 at 7pm
Al Fresco Restaurant
in the Arts and Minds Center
3138 Commodore Plaza
Coconut Grove, FL 33133
$20 Admission includes :
Al Fresco's renown Gourmet Pizza
and your choice of a glass of Beer or Wine
This month, we present another culinary delight:
Big NIGHT
Starring: Minnie Driver, Ian Holm, Isabella Rossellini,
Tony Shalhoub, Stanley Tucci, Marc Anthony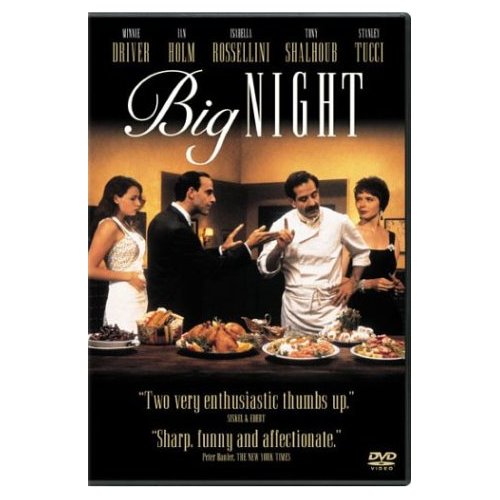 Description:
Primo and Secondo Pilaggi are Italian immigrants who settle on the New Jersey shore and open a restaurant, the Paradise, hoping to strike it rich. Primo, the elder brother, is a master chef from the Old World who is concerned only with quality and authenticity in the kitchen. Secondo, the younger brother and business manager, is all too eager to compromise if it means more customers and more cash. Teetering on the brink of failure, the brothers learn that the famed Italian-American musician Louis Prima is performing in the area and they contrive to host a dinner in his honor. Hoping that a "big night" built around a celebrity like Prima will get them publicity, the brothers pool all their talent, energy and every cent they have to plan a sumptuous banquet of unsurpassed ambition. What follows is a culinary adventure that will teach them a lot about themselves, each other, and their different definitions of life, love and success.
Please RSVP by Wednesday, January 28 to info@coconutgrove.com
or go to events at www.coconutgrovechamber.com
or call
305-444-7270.
Also, email us and tell us what you want to see next!
Rules: food must be a featured ingredient:
samples: Babette's Feast, Like Water for Chocolate, East Drink, Man, Woman, Sideways, Women on the Verge of a Nervous Breakdown