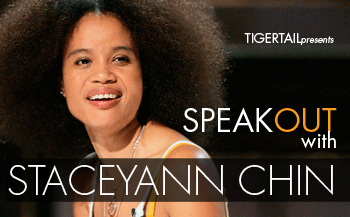 PERFORMANCE, WORKSHOPS & SLAM
FOR GAY, LESBIAN, BISEXUAL & TRANSGENDER YOUTH
JOIN us for a weeklong residency with nationally recognized Jamaican lesbian spoken word poet STACEYANN CHIN that includes workshops and an open mic for GLBT youth. Chin's poetry is a bracing, no-holds-barred yet tender examination of her own life and the world around her that locates itself at the complex intersection of sexual, gender and racial identities. She co-wrote and performed in the Tony Award-nominated Russell Simmons Def Poetry Jam and presented her own one-woman shows Off-Broadway.
SCHEDULE:
MONDAY, JANUARY 19
7:30 PM
Panel discussion, Race, Sex and Gender with Stayceyann Chin, Marga Gomez & others co-presented by Miami Light Project
Light Box, Miami Light Project, 3000 Biscayne Boulevard, Suite 100, Miami
Open to general public
TUESDAY, JANUARY 20
8:00 AM & 9:15 AM
Workshops with GLBT support groups
North Miami Beach Senior High School
For North Miami Beach Senior High School students only
2:30 PM
Workshop with Gay Straight Alliance
Dr. Michael M. Krop Senior High School
For Dr. Michael M. Krop Senior High School students only
6:30 PM
Workshop for gay teens
Pridelines Youth Services, 180 NE 19th Street, Miami
Open to teens.
WEDNESDAY, JANUARY 21
1:00 PM
General assembly and workshops for teens
Homestead Senior High School
For Homestead Senior High School students only
THURSDAY, JANUARY 22
6:00 PM
SpeakOut open mic for GLBT youth hosted by Staceyann Chin and Teo Castellanos
Miami Beach Regional Library, 227 22nd Street, Miami Beach
All materials need to be gay friendly. Open to teens.
FRIDAY, JANUARY 23
7:30 PM
Reading and performance
Books & Books, Courtyard, 265 Aragon Avenue, Coral Gables
Open to general public.
All of the above workshops and events are FREE. For more information contact
Tigertail Productions at 305 324 4337 or visit www.tigertail.org
The SpeakOut program and Staceyann Chin's residency is made possible, in part, by a grant from the GLBT Community Projects Fund at Dade Community Foundation, Greater Miami's permanent endowment made possible by generous donors since 1967 and the National Performance Network's Performance Residency Program. Major contributors to the National Performance Network include the Doris Duke Charitable Foundation, Ford Foundation, National Endowment for the Arts (a federal agency), Altria and the Nathan Cummings Foundation. Tigertail Productions is a Partner in the National Performance Network (NPN). NPN is a group of cultural organizers and artists facilitating the practice and public experience of the performing arts in the United States. NPN serves artists, arts organizers, and a broad range of audiences and communities across the country through commissions, residencies, culture-centered community projects and other artistic activities. For more information visit www.npnweb.org.