International Saturdays at CocoWalk Jan 17th 2009
CocoWalk Presents INTERNATIONAL SATURDAYS AT COCOWALK
January Features Middle Eastern Cultural Theme
First of Cultural Series
January 17, 2009
7pm to 11pm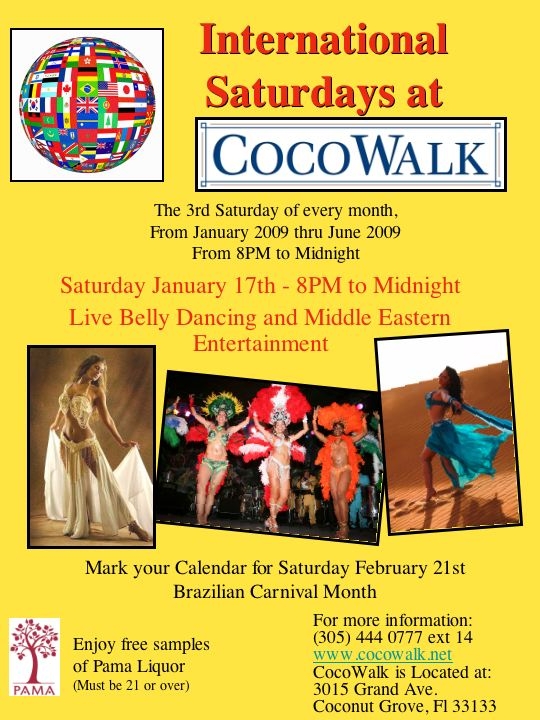 January kicks off International Saturdays always held on the 3rd Saturday of every month. The fun begins at 7pm and ends at 11pm. This cultural event features international music, dance, food, and more. From Tango to Mediterranean, every month will be a different cultural theme. The event is free to the public and takes place in the center court yard of CocoWalk. Besides featuring live belly dancing during our Middle Eastern event, you can be part of the fun and learn how to belly dance as well. There will be belly dancing instructors available to teach you some of the newest moves.
Pama Pomegranate liqueour, a featured sponsor, will be offering free samples, must be 21 or over. Also there will be Middle Eastern food and other traditional samplings available to try.
Mark your calendar for February 21st which will be Brazilian Carnaval, in which we will be featuring live samba and much more.
For more information on this and other CocoWalk events, please visit www.cocowalk.net.
About CocoWalk
Coconut Grove's most exciting destination for shopping, dining and entertainment!
Located at 3015 Grand Avenue, the unique grounds and buildings of CocoWalk were carefully designed to blend seamlessly into the surroundings of Coconut Grove, a bayside village known for being eclectic, sometimes eccentric and always exciting. CocoWalk's rows of shops and boutiques are a window-shoppers paradise, while our AMC movie theatre gallery provides cultured entertainment for any taste. Restaurants and sidewalk cafes offer a kaleidoscope of flavors from every corner of the globe. Each night our variety of bars and nightclubs fill the center with sparkling lights, music and laughter.
Dare to shop and dine outside the box at CocoWalk, where there is something for everyone and something different every day!