A Snapshot of European Business in the South East of the United States
Meet with the European Ambassador to the US, Hon. John Bruton
Cocktail Reception & Seminar
January 12, 2009, 7:30 p.m.
Poltrona Frau Showroom
10 NE 39th Street
Miami Design Distric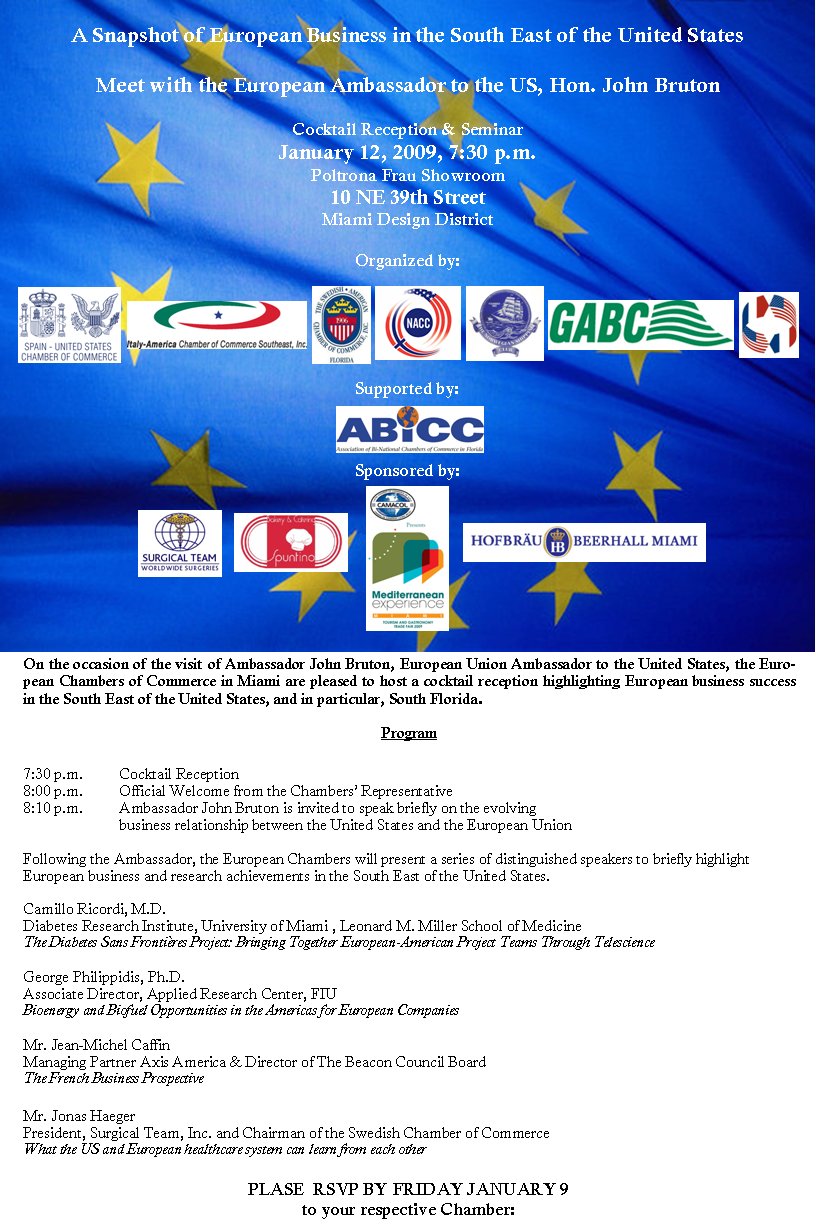 On the occasion of the visit of Ambassador John Bruton, European Union Ambassador to the United States, the European Chambers of Commerce in Miami are pleased to host a cocktail reception highlighting European business success in the South East of the United States, and in particular, South Florida.
Program
7:30 p.m. Cocktail Reception
8:00 p.m. Official Welcome from the Chambers' Representative
8:10 p.m. Ambassador John Bruton is invited to speak briefly on the evolving business relationship between the United States and the European Union
Following the Ambassador, the European Chambers will present a series of distinguished speakers to briefly highlight European business and research achievements in the South East of the United States.
Camillo Ricordi, M.D.
Diabetes Research Institute, University of Miami , Leonard M. Miller School of Medicine The Diabetes Sans Frontières Project: Bringing Together European-American Project Teams Through Telescience
George Philippidis, Ph.D.
Associate Director, Applied Research Center, FIU Bioenergy and Biofuel Opportunities in the Americas for European Companies
Mr. Jean-Michel Caffin
Managing Partner Axis America & Director of The Beacon Council Board The French Business Prospective
Mr. Jonas Haeger
President, Surgical Team, Inc. and Chairman of the Swedish Chamber of Commerce What the US and European healthcare system can learn from each other
PLASE RSVP BY FRIDAY JANUARY 9
to your respective Chamber:
membership@spainchamber.org
info@faccmiami.com
nscnacc@yahoo.com
marketing@iacc-miami.com
miami@gabc.us
sacc@sacc-florida.com
Costs: Members of the Chambers: FREE
Non Members: $10.00