Colony Theater 1040 Lincoln Road Miami, FL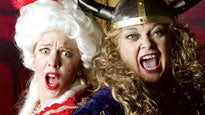 Our sincere apologies to the opera purists… Two professional opera singers decided that the world needed a good fat laugh! Big egos, along with big wigs, gorgeous voices, and ridiculous characters…audiences from college kids to older opera buffs adore this show and schtick. From the hallowed stage of Carnegie Hall, these hilarious ladies will tickle your funny bone as they combine "serious" operatic music with completely slapstick humor.
And remember, "it ain't over till…" Well, you know.
"WHO KNEW OPERA COULD BE SO MUCH FUN?" Howard Cohen, Miami Herald July 11, 2008 "The Sopranos was never quite like this: "Baroness Vladka von Loudenstimme has had a long career on the opera stage but for how much longer is anyone's guess. She's still got the pipes but she likes to soak them in booze whenever she can — as in during every performance. So she hires the younger Southern belle Gwendoline Josephine Bellevoix Bouvier, who fancies herself French and cultured but who grew up in Boar Tush, La., to sing for the audience so she can sprint off stage for a nip. "One pianist named Paige Turner, 18 costumes, a horned helmet, spear, light saber and a lotta Puccini later, the diva duet becomes a duel. The aim is laughter. That's the premise of Duelling Divas, a comedic entree into the world of grand opera."
"A SMASH HIT!" WPBF-TV News 25 "An inspired stand-out in operatic theatre." Ocala Magazine "See how high art and high camp combine!" Miami New Times
Tickets on Ticketmaster: $35, $22.50, $10