Love is in the Air!
Photographer Alissa Christine Completes Her
"i love miami 365™" Daily Documentary Project on the Last DAY of the Year
• PUBLIC INVITATION TO PARTICIPATE IN THE AERIAL PHOTO SHOOT •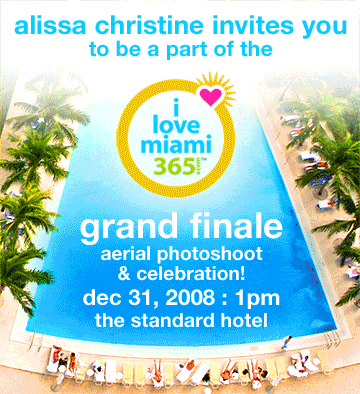 The Grand Finale photo of Alissa Christine's "i love miami 365" project will be shot on December 31, 2008 at The Standard, Miami. Alissa invites the public to be a part of this amazing aerial shot as she flies overhead in an ultralight aircraft photographing the pool celebration below. "i love miami 365" has been a year-long photo documentary project in which Alissa Christine photographs every day showcasing the essence of this diverse city and its fabulous inhabitants. The shots are intended for publication in a colorful "i love miami 365" coffee table book.
The event will be a multimedia extravaganza hosted by Theresa Amandi and Marcus Blake, including live music by Elastic Bond with Cleaveland Jones & members of Lanzallamas crew, Cezar Santana, Here II Here and drum performance by Jude Papaloko Thegenus alongside DJ Inga Ambrosia. The gardens will be laden with work by artists Susa Alvarez, Jeff Dekal, Jorge Fernandez, Katia Jirasova, Tomas Loewy, Karelle Levy, Troy "el dibujon" Rodriguez and live body painting by Luis Valle. Projections of Alissa Christine's photo journey will be shown in the lobby. The day will consist of vignette performances in art and dance by HeartBreakerz female breakdance crew, Pinups 305, Magic by Mio, Sacred Spirals Hoopers, and Acro Yoga. Reservations are required for Watsu water massage treatments by the pool, and Ultralight Adventures airplane rides.
It is requested that everyone arrive promptly by 2pm in order to register and participate in the aerial photo shoot taking place in the Standard pool. Participants should come dressed for the occasion: swimsuits and swim trunks with cover-ups. Be prepared to get wet and bring a towel.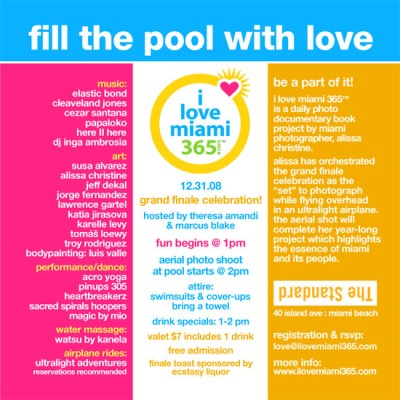 Location: The Standard Hotel, 40 Island Avenue, Miami Beach, FL 33139
Date & time: December 31, 2008 from 1pm to 5pm
Aerial photo shoot time: 2 pm
Drink specials from 1 pm to 2 pm, & a complimentary Grand Finale toast sponsored by Ecstasy Liquor
Limited street parking is available, and $7.00 valet parking includes one free drink
Admission is free
RSVP & Pre-registration REQUIRED for photo shoot: love@ilovemiami365.com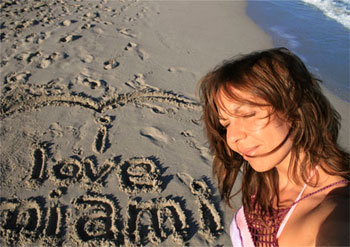 About Alissa Christine:
Award winning Brazilian-American visual artist, Alissa Christine channels the true essence of beauty through her work and draws inspiration from the pure & simple joys of life. Also recognized for editorial & commercial photography, Alissa's personal art spans mediums with innovative fusions of photography, lighting, movement, painting & display. Alissa Christine has been exhibiting and painting live throughout South Florida and New York City since 2005. She is currently the artist in residence at OLA/Sanctuary Hotel in South Beach.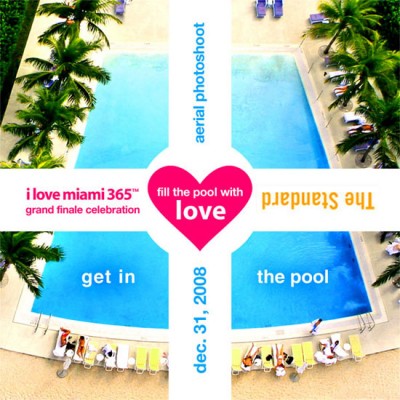 More information: www.ilovemiami365.com
Facebook Event page: http://www.facebook.com/event.php?eid=44722576466