Hard Rock Cafe Miami Hosts Live Performances By Bob Seger Saxman
And Alto Reed's Blues Entourage
As Part Of Hard Rock's Global "Imagine There's No Hunger" Campaign
Event to Benefit WHY in the Fight against Hunger and Poverty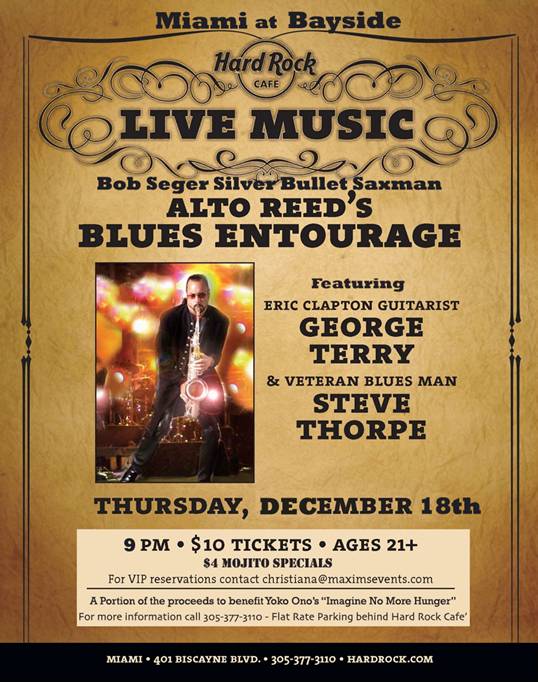 MIAMI FLORIDA HARD ROCK CAFÉ DECEMBER 18TH 2008: On Thursday December 18th at 9pm the Hard Rock Café at Bayside will bring back LIVE rock and roll blues music to Miami with Bob Seger's Silver Bullet Saxman and founding member Alto Reed to support Yoko Ono's "WHY-Hunger" charity to end world hunger. Alto Reed's Blues Entourage includes George Terry, guitarist and co-writer (Mainline Florida/Lay Down Sally/etc.) from Eric Clapton's 461 Ocean Blvd Band and legendary blues singer and guitarist Steve Thorpe. Cover charge is $10 (includes WHY-Hunger donation). $4 Mojito Specials.
After coming off the #1 World Wide Box Office 2007 "Face the Promise" tour with Bob Seger and the Silver Bullet Band, Alto Reed has made Miami his home and wants to give back to the community locally, nationally and globally! The Hard Rock Café venue and Alto Reed's Blues Entourage are available for charity events and fundraisers. For more information please contact Mirielle Enlow 305-798-2393.
For more information, please call Hard Rock Cafe Miami at 305-377-3110.
About WHY
Founded in 1975, WHY is a leader in the fight against hunger and poverty in the United States and around the world. WHY is convinced that solutions to hunger and poverty can be found at the grassroots level. WHY advances long-term solutions to hunger and poverty by supporting community-based organizations that empower individuals and build self-reliance, i.e., offering job training, education and after school programs; increasing access to housing and healthcare; providing microcredit and entrepreneurial opportunities; teaching people to grow their own food; and assisting small farmers. WHY connects these organizations to artists, funders, media and legislators. WHY is a not-for-profit registered 501(c)(3) organization founded by radio talk show host and present Executive Director Bill Ayres, and the late singer-songwriter Harry Chapin.
About Hard Rock International
With 123 high-energy Hard Rock Cafes and nine Hotels/Casinos in 48 countries, Hard Rock International is one of the world's most globally recognized brands. Beginning with an Eric Clapton guitar, Hard Rock owns the world's greatest collection of music memorabilia, which is displayed at its locations around the globe. Hard Rock is also known for its collectible fashion and music-related merchandise, Hard Rock Live performance venues and an award-winning website. In addition to the two flagship Seminole Hard Rock Hotels and Casinos in Tampa and Hollywood, Fla., Hard Rock Hotels/Casinos are located in Las Vegas, Biloxi, Orlando, Chicago, San Diego, Pattaya and Bali. Additional hotel and casino projects have been announced in Macau and Penang, both scheduled to open in 2009; Palm Springs, Atlanta and Panama, scheduled to open in 2010; Dubai, scheduled to open in 2011; and Abu Dhabi, scheduled to open in 2012. Hard Rock International, Inc. is owned by Seminole Hard Rock Entertainment, Inc. For further details on Hard Rock Hotels and Casinos, visit www.hardrockhotels.com. For more information on Hard Rock International, visit www.hardrock.com.