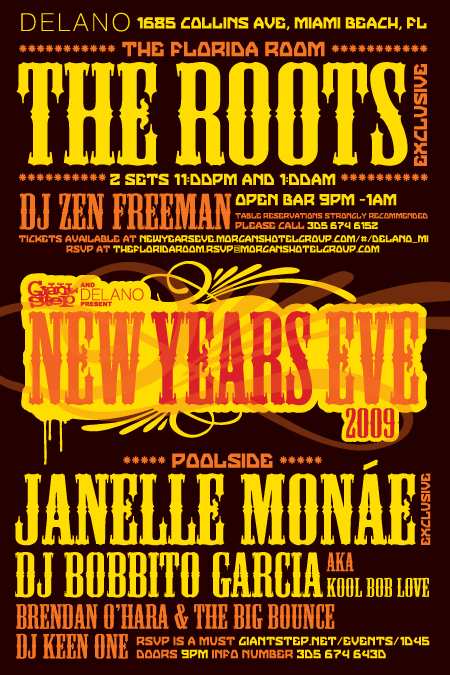 Giant Step presents New Year's Eve 2009 with The Roots, Janelle Monáe, DJ Bobbito Garcia and More
Wednesday, December 31 2008
***The Florida Room***
Multiple Grammy award-winning Hip-Hop legends The Roots will perform 2 exclusive sets at The Florida Room, a space that holds only 300 people. Expect appearances by special surprise guests who have worked with the band over the years. Just imagine this world famous band in a room not much larger than your living room. This is a rare opportunity, and not one to be missed. The Roots will play 2 exclusive live sets at 11 PM and 1 AM. Plus DJ Zen Freeman.
Ticket Info
Tickets are required for this event. Limited capacity. 21+ w/ID
Ticket includes a 4 hour premium open bar from 9 PM – 1 AM
http://newyearseve.morganshotelgroup.com/#/delano_mi
Table reservations strongly recommended. Please call 305 674 612. RSVP at thefloridaroom.rsvp@morganshotelgroup.com
***Poolside***
Just Added: Janelle Monáe (exclusive performance), DJ Bobbito Garcia AKA Kool Bob Love, Brendan O'Hara & The Big Bounce, and DJ Keen One.
Renegade, innovator and captivating Bad Boy Records performer, Janelle Monáe has grown from a singer into a phenomenon this year. Launching under the tutelage of Diamond-certified duo, Andre 3000 and Big Boi – now more than ever, the eyes of the world are on her. With Metropolis Suite I: The Chase, the first of four highly anticipated album suites, Janelle Monáe has found a way to innovate with subject matter and sound, incorporating elements of electronic music, hip hop, rock and soul.
NYC native and world class DJ Bobbito Garcia AKA Kool Bob Love will spin his unique blend of hip hop, rare funk, Latin, Afro-Beat, soul, classic rock, house, and ballads.
RSVP Info
Doors 9PM
Space is limited. Entry is free but strictly rsvp only. RSVP limited to two people per email. +1's are allowed.
RSVP to giantstep.net/events/1045
Info number: 305 674 6430
Delano, Miami Beach FL
1685 Collins Ave
Miami Beach, FL 33139
ph 305 672 2000