What: The Party of the Year – STUDIO 54 Yearly Spectacular Event – at Karu & Y !!!!
When: December 20, 2008 10:00 PM
PLEASE R.S.V.P. to: BrickellBrats@aol.com with first and last name of all guests for this spectacular event with Open Bar and VIP entry to the Buddah Garden at Karu & Y.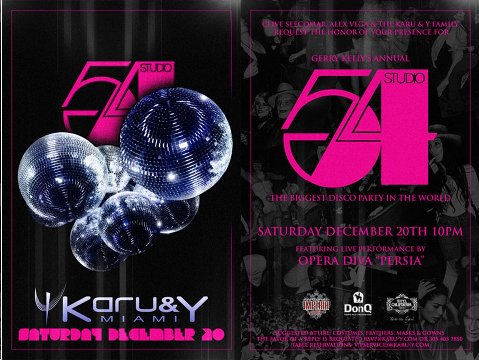 It's back again by POPULAR DEMAND! Last year the Brats and SOBE Nightlifers attended this event at the 5th – (We have pictures in the Brats Album – check them out!) This year we are celebrating in a much larger scale at KARU & Y.
If you attended last year you know this is Quality all the way. If you didn't then you really can't miss this! Professional Talent, Dancers, all the works! This year Gerry Kelly is going BIGGER with this event!!! A can't miss Spectacular Party!
Join the Brickell Brats on December 20th. RSVP with your first and last name to get on the guestlist. The Brickell Brats along with the Karu & Y family are offering:
– Open bar between 10pm – 11pm
(Imperia, Hotel California Tequila & Don Q Rum – Cash bar for all others)
– VIP Section – in the Buddha Garden with the Brickell Brats
– Entertainment throughout the night by OPERA DIVA "PERSIA"
WHAT YOU MUST DO:
RSVP with first and last name to get you on the VIP List at the door
Be there between 10pm – 10:45pm – Any later the lines will be out of control
Meet us at the Y Lounge outside to get a wristband for entry into the Buddha Gardens
What a better way to party with the Brats than an all time favorite, most spectacular and classy THEME PARTY! After all, that's what we do well and boy do we party them well too! This is truly the best way to celebrate near the end of the year before NYE!
Be there folks… or be TOTALLY [ ] …. Yeap … you know it!