Natasha Duwin
"By and About Women" a collaboration of women artists from around the world. Sponsored by Sotheby's under the guidance of Martin Z. Margulies.
Launched at Sotheby's NY headquarters, will be featured at Art Miami 2008.
Anja Marais
Sculpture Key West, West Martello Towers. Key West, FL Juror: Mary Ceruti, 2008.
Alejandro Mendoza
"CROSS-ING CULTURES" Solo Exhibition, The Chico Art Center, Chico, California, 2008.
Alette Simmons-Jimenez
"Optica Festival Paris 08" Cervantes Institute for Nuit Blanche, Paris, France. October 2008.
"The Natur(aln)e(ss) of Performance: Performance and/in Nature" Espasio Iniciarte, curator Alanna Lockward (Berlin), Sevilla, Spain. November 2008.
"The Edge" Armory Art Center, curator Bonnie Clearwater. West Palm Beach , FL, Novenber 2008.
Chieko Tanemura
"Assemblage" One Person Show, NHK, Broadcasting Gallery, Japan
"International 2008 in New York," Juried Fine Art Exhibition, Sponsored by Hun Art Foundation, New York.
Jovan Villalba
"QUEENS INTERNATIONAL '08", Queens Museum of Art, NYC. Opening January, 2009
"Latin Views 08", Alexey von Schlippe Gallery, Groton, CT. International biennial of latin artists. September – Novenber 2008
"Jovan Villalba – PREMONITIONS", Tria Gallery, NYC. First New York City solo show, Tria Art Gallery, 547 West 27th Street, 2008.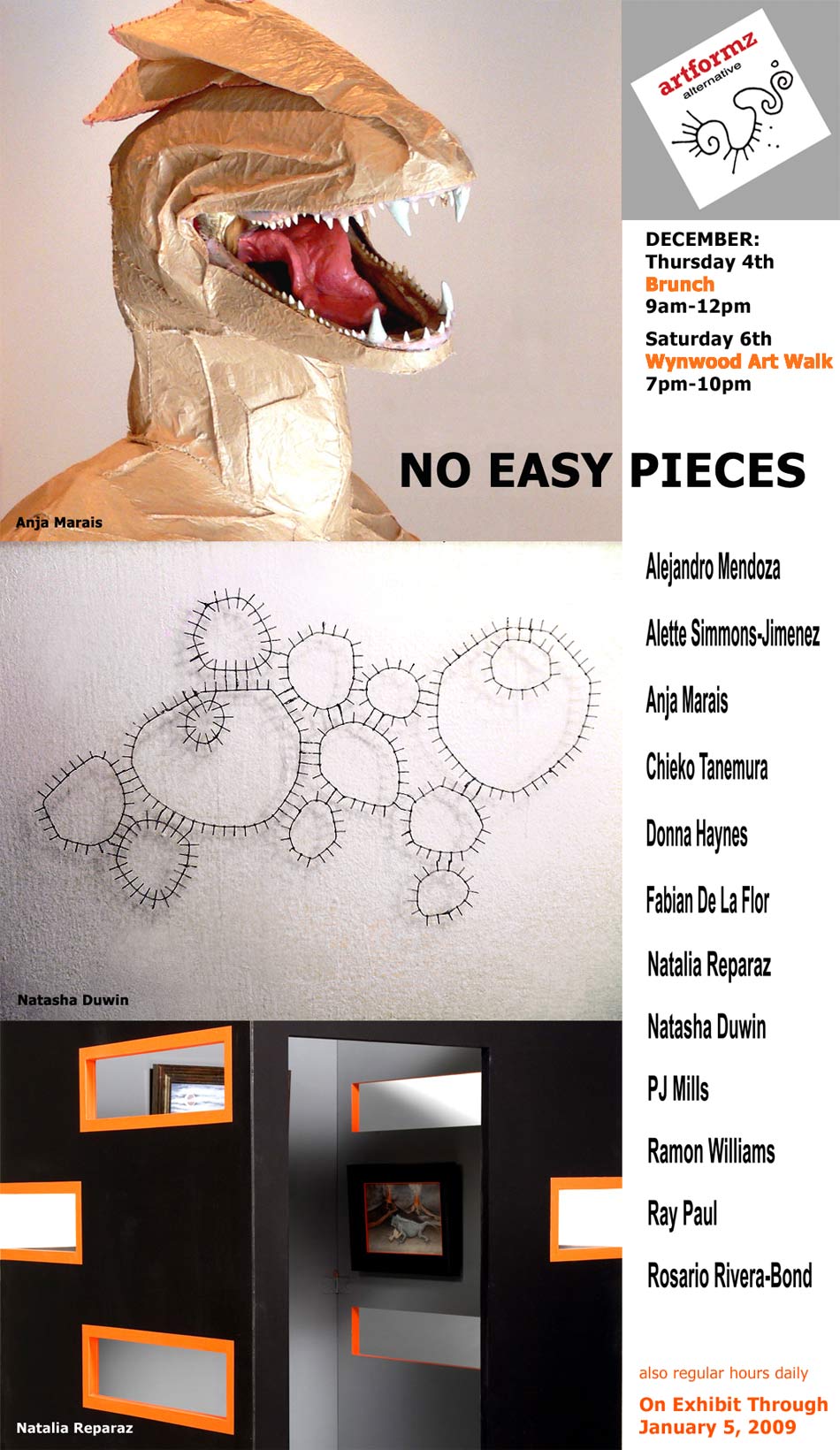 artformz alternative
Wynwood Art District
171 NW 23rd Street
Miami, FL 33127
305.572.0040
info@artformz.net
www.artformz.net