** EVERY SATURDAY AFTERNOON BETWEEN 12PM AND 7PM **
**NO COVER HAPPY HOUR BETWEEN 4PM-7PM**
***
Thanks to all who made it out last weekend! We are back to do it all over again this and every Saturday.
This week we welcome Julius 'The Mad Thinker' from Chicago.
It gets dark earlier so we can expect a Sunset Session during our Happy Hour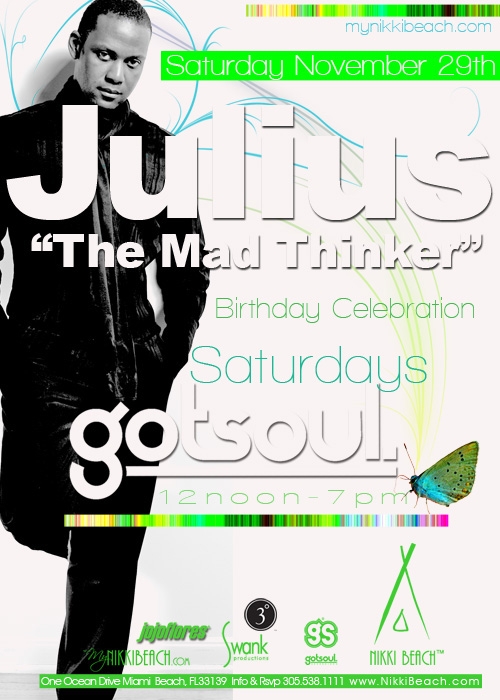 http://www.myspace.com/themadthinker
If you close your eyes, open your ears, open your mind, and let your
body flow, you will find yourself in a new plane previously
unexplored. Seamlessly blended tracks vibrate your spine while
soothing your soul. Many people refer to the genre as house, but
Julius the Mad Thinker makes it home. Approaching each endeavor with
heart, soul and passion, Julius builds you up gradually through loops
of energy bursts and just when you reach your climax, he drops you
back to a lounge state awaiting the next climb to the peak.
With Julius the Mad Thinker, you must "Witness the Dynamic" . . .
This illustrious dynamic was first identified by the founder of Large
Music, Jeff Craven, when he invited Julius to open and close the first
annual Get Large party at the Winter Music Conference. From there,
John Davis, a top NYC promoter and co-founder of Body&SOUL, witnessed
the dynamic when he came upon Julius and installed him as a resident
of Sunday Sessions in NYC. Chicago house pioneer Chip E, witnessed the
dynamic when he invited Julius to be interviewed for house music
documentary, the Unusual Suspects, to which Julius was the youngest
interviewee to appear. And NYC's Undaground Archives Choice Award gave
tribute to the dynamic when Julius was awarded the "Best Emerging
Talent" recognition.
First exposed to dance music in the sixth grade, Julius went on to
become a DJ and producer in 1994. Since that time, Julius has
developed a charisma behind the turntables that can only be described
as a dynamic that fills the room. Coupled with "the Mad Thinker"
title, which was given to him by MC Miles Bentley of Rec Center,
Julius makes no move as an artist haphazardly. Be it the tracks he
plays, the order in which he plays them or the EQing which brings out
a melody or rhythm in a whole new way – all these elements which
comprise his dynamic are meticulously plotted throughout his
improvisational creative process.
As the co-founder and partner of the internationally renowned
promotional and DJ collective, 3Degrees Global, and a resident of the
3Degrees "Some Call It House . . . We Call It Home" tour, the dynamic
has been witnessed throughout the most notorious clubs of house
music's homeland in Chicago, including Smartbar, Soundbar, Sonotheque,
Ohm, The Note and Zentra. Across the nation the dynamic has been
witnessed on the main stage at the Detroit Electronic Music Festival,
Marques Wyatt's DEEP event in LA, Soul Revival in Boston, Devotion at
The End Up & Pink in San Francisco, Club Five in Washington DC, Pearl
at Nikki Beach in Miami, Kevin Hedge and Louie Vega's Roots at Cielo
in New York as well as stops in Hawaii, Canada, Mexico and France. In
addition the dynamic has cross pollinated with house legends via
Julius DJing alongside Frankie Knuckles, Joe Claussell, Farley
"Jackmaster" Funk, Lil' Louis, Derrick Carter, Louie Vega, Derrick May
and Ron Trent amongst others.
As he continues to manifest this vision in music, Julius says, "My
purpose in this journey of music and life is to help others get to
places that they never imagined possible, and as a DJ, I'm here to
live that message as an example."
NO COVER – HAPPY HOUR FROM 4PM to 7PM
– – – – – – – – – – – – – – – – – – – – – – – – – – – – – – – – – – – – – – – –
FOR VIP BEDS RESERVATION CALL 305-538-1111
——————————————————————–
CONTACT- gotsoul.b3@gmail.com