ENJOY A FREE "JAZZ ON THE GREEN" CONCERT AT THE GRAND OPENING OF JACO PASTORIUS PARK
DECEMBER 1st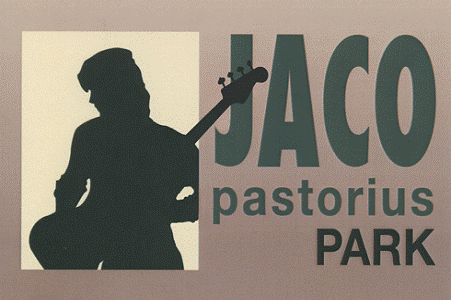 Artists performing include; Toni Bishop, Ira Sullivan, Bobby Thomas, Othello Molineaux, and Randy Bernsen
The City of Oakland Park Florida will take another important step in its downtown redevelopment at 4:30 p.m. on Monday, December 1st when City officials and other dignitaries cut the ribbon for the grand opening of Jaco Pastorius Park at 4000 North Dixie Highway.
The ceremony will be followed by a free "Jazz on the Green" concert featuring several artists who were closely associated with the new park's legendary namesake Jaco Pastorius.
"We selected December 1st as this was Jaco's birthday," says Mayor Layne Dallett Walls. "And we are excited to feature performances from musicians who had personal connections to Jaco, as well as the jazz band from Northeast High School which Jaco attended."
Pastorius, who grew up near Oakland Park City Hall, showcased what would soon become extraordinary musical talents at Northeast High School. More than 20 years after his untimely death, he is still considered by many in the music industry as the world's greatest bass guitarist. During his short yet brilliant career Jaco also recorded albums with other jazz legends including, Pat Metheny, Herbie Hancock, Joni Mitchell and the super-group Weather Report.
According to Parks and Leisure Services Director Jenna LaFleur, the 6 p.m. jazz concert will feature a "who's who" of South Florida jazz. Songstress Toni Bishop, Othello Molineaux, Ira Sullivan, Bobby Thomas, and Randy Bernsen are among the artists scheduled to perform.
"We are pleased to present this free concert for our residents and anyone else who would like to come and see why we refer to Oakland Park as a 'hometown choice,'" said LaFleur, who encourages everyone to bring blankets or lawn chairs as the concert will take place on the park's large grassy field.
For information on the grand opening of Jaco Pastorius Park or the free jazz concert, please call the city's Parks and Leisure Services at 954-630-4500.
Info provided by:
www.HotHouseFlorida.com
www.myspace.com/HotHouseFlorida