Aqua Art Miami / December 2008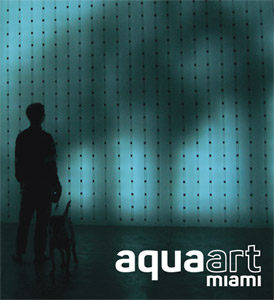 AQUA WYNWOOD – December 3-7
42 NE 25th St, Miami
VIP Preview Tuesday, December 2: 5-8pm
for free admission to the preview rsvp to: rsvp-Wyn@aquaartmiami.com
Dec. 3, 11 am – 3 pm
Dec. 4/5/6, 11 am – 7 pm
Dec. 7, 11 am – 4 pm
AQUA HOTEL – December 4-7
1530 Collins Ave, Miami Beach
VIP Preview Wednesday, December 3: 7-10pm
for free admission to the preview rsvp to: rsvp-Hotel@aquaartmiami.com
Dec. 4/5/6, 11am – 8 pm
Dec. 7, 11 am – 4 pm
Lots of info available online
* complete exhibitor list
* preview the preview – hundreds of images
* download free Aqua catalogs
Special events at Aqua Wynwood:
I'M KEEPING AN EYE ON YOU
A video art program curated by John Spiak
On-going screening December 2 – 7. I'M KEEPING AN EYE ON YOU is a single channel video art program featuring works by ten artists that explores the effects of our curiosity in and intrusions upon others. Featuring works by: Mounira Al Solh, Rachel Garfield, Charlotte Ginsborg, Pia Greschner, Myung-Soo Kim, Yaron Lapid, Jeff Luckey, Johnna MacArthur, Michael Mohan, and Corinna Schnitt. Sponsored by Aqua Art Miami & Friends of the Arizona State University Art Museum.
Home Movies
A new media/video installation by Jim Campbell
Campbell is an MIT-educated engineer and mathematician who is known for his installations featuring extremely low-resolution moving images accomplished utilizing LED technologies. Presented by Hosfelt Gallery, San Francisco & New York.
The Zoseria at Aqua
An installation by Frohawk Two Feathers
Los Angeles-based, Frohawk Two Feathers work is at the confluence of graffiti, folk art and 19th century portraiture. Frohawk is creating a large decorated pyramid that will be installed in the outdoor courtyard at Aqua Wynwood. The Zoseria at Aqua is presented by House of Campari. Courtesy Taylor De Cordoba, Los Angeles.
Antistrot: Site-specific wall mural painted by Dutch collective
The Dutch artist collective Antistrot will create a new work in Miami for the courtyard of Aqua Wynwood. The collective, who are inspired by comic books, fashion magazines and old photography books among other things, will be painting live during the Wynwood VIP Preview on December 2. Presented by Sara Tecchia Roma New York.
Ellis Gallagher: site-specific shadow drawing
Ellis Gallagher's shadow chalk drawings, executed in both urban and interior settings, seek to enhance the beauty of everyday objects and mundane situations that are routinely overlooked. The artist will be making drawings at Wynwood and other Miami locations. Courtesy Sara Tecchia Roma New York.
Special Events at Aqua Hotel:
K48 Show and promotion for the latest issue: Starship Counterforce
Friday December 5th, 11am-6pm – rsvp-K48@aquaartmiami.com
The K48 magazine will be on display at the Aqua Hotel during the day on December 5th along with a selection of artworks by artists featured in the new issue. Billing itself as "New York City's most awesome artist's fanzine," K48 is an artist book series created by artist Scott Hug. The latest issue includes contributions by more than 70 artists including Matt Bua, Chris Duncan, Craig Kalpakjian and Anne Koch.
Tickets: general admission $15 at the door – ticket good all week at both Aqua venues. For free admission to the Aqua previews rsvp by Dec. 1: Aqua Wynwood preview: rsvp-Wyn@aquaartmiami.com; Aqua Hotel preview: rsvp-Hotel@aquaartmiami.com
Transportation: free Aqua shuttles run during event hours between the Aqua Hotel and Art Basel and between Aqua Wynwood and Art Basel. Catch the shuttles at Art Basel in a new spot at the corner of Washington Ave. & 17th. This year Aqua Wynwood will be part of a consolidated group shuttle system, (same pick up spot as above). Visit our website for updates.
General Information: Aqua Art Miami / (206) 245-8598
http://www.aquaartmiami.com
Press contact: Molly Myer, Scenic / (212) 608-5999 / molly@scenic-group.net
Major support provided by Campari.