Nikki Beach is proud to announce the Saturday Residency of Internationally re-knowned DJ jojoflores
**Saturday November 15th 2008 and Every Saturday Thereafter**
Music-Dedication-Passion
'jojoflores' has come a long way from his original Montreal residencies in the 80's. Now reaching globally, he is current, dedicated, and consistently collaborating with international DJ's, producers, club owners, and corporate affairs. He represents and purveys soulful dance music in every way possible: he is CEO of Gotsoul Recordings, founder of 9 year Therapy Soirée, and his CD compilations. This winning combination has managed to break musical barriers that otherwise would never have come down without his trademark packaging of music & events.
jojoflores' hard work and dedication has won him an established reputation in the music industry and has awarded him multiple residencies at famed clubs world wide, including New York's Cielo, as well as others in San Francisco (Pink), Chicago, Toronto, Miami, Los Angeles (Deep), Hawaii (Lotus), Cape Town, Dubai & Athens.
He was voted "Best International DJ" 4 years running by NYC's Underground Archives.
His musical influences range from: Chaka Khan, Prince, Stevie Wonder, A Tribe Called Quest, to the Beatles. jojoflores, like Afrika Bambaataa is searching for "The Perfect Beat", and his close connection with the pioneers as well as the new jack producers of soulful dance music brings him closer to this goal. He wants "to put the message out there, being optimistic in a chaotic world where positive times are hard to come by."
jojoflores does this…he brings optimism without fail every time he performs.
***
***NO COVER – HAPPY HOUR FROM 4PM to 7PM***
See the listing on My Nikki Beach!
– – – – – – – – – – – – – – – – – – – – – – – – – – – – – – – – – –
FOR VIP BEDS RESERVATION CALL 305-538-1111
www.jojoflores.com
www.nikkibeach.com
www.mynikkibeach.net
Nikki Beach famous for their Beach Club atmosphere situated directly on the sand is the perfect get away for an afternoon of schmoozing, relaxation, and to get your party on!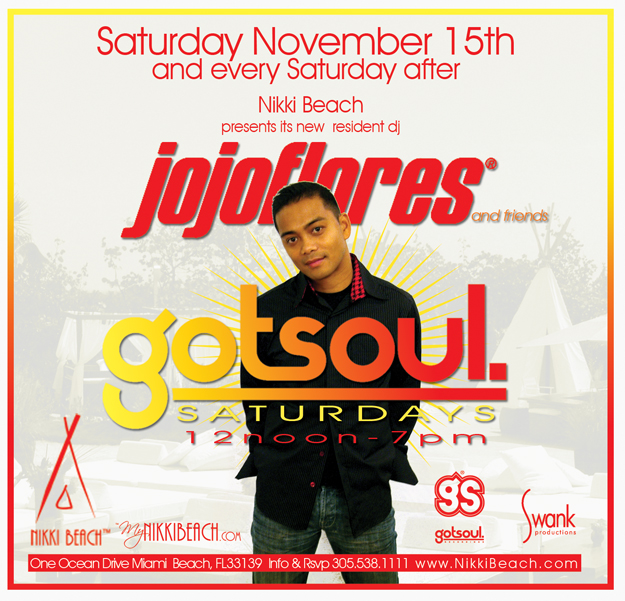 Nikki Beach One Ocean Drive Miami Beach, FL. 33139 ph. 305.538.1111 www.nikkibeach.com