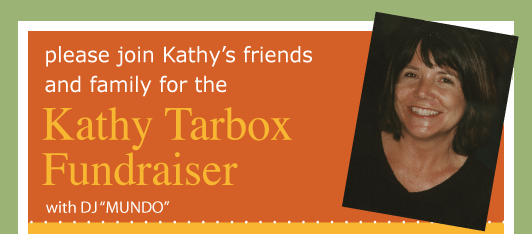 Kathy's story: In 2001 Kathy was diagnosed with breast cancer. Three months short of her 5-year-cancer-free anniversary, the cancer came back with a vengeance. For the last three years she has endured weekly chemo treatments. As you all know, the costs associated with long-term cancer create a substantial financial burden. A single parent, Kathy has two daughters in college: Callie is in Law School at UF; Catie is a sophomore at FAU. Please join us in our efforts to support Kathy.
date: Thursday, November 20
time: after work; raffle begins at 7 p.m.
where: Bru's Room on Sample at 441 (954.968.3663)
cover: $25 at door, includes hors d'oeuvres
rsvp: tori@vbmc.com or beckyevents@bellsouth.net by Nov. 18
Raffle Prizes Panther tickets • round of golf for 4 at Colony West • Banana Republic gift certificate • dinner for two prepared by personal chef in your home • tickets to Freddie Jackson concert • gift certificate to TruLuck's • and much more
If you can donate raffle prizes, please e-mail tori@vbmc.com with details.