Prizm Art Fair 2015
Opening Reception, By Invitation, Tuesday December 1st 7pm – 10pm, 7 Pm – 10 Pm
Prizm Panels, Saturday December 5th 12pm – 5:30pm
Prizm Block Party, Saturday December 5th 12pm – 7:00pm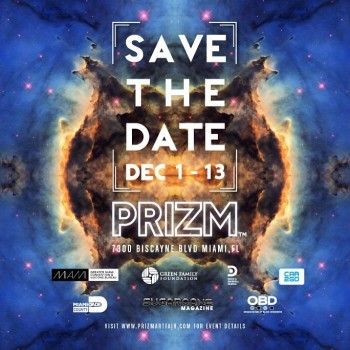 10 Am – 5pm Weekdays
12 Pm – 5pm Weekend
7300 Biscayne Blvd.
Miami, FL 33138
Website
PRIZM is the producer of a cutting-edge art fair that is multidisciplinary in scope. Our goal is to expand the spectrum of international artists from the African Diaspora and emerging markets at one of the most prestigious art festivals in the world.
Our mission is to promote the work of artists of color, who reflect global trends in contemporary art, through a blockbuster exhibit held during Art Basel/Miami. Workshops and special events will be organized throughout the year to advance the careers of local and regional artists. We are committed to the Miami cultural community and will work to expand its visual arts landscape, nurture and educate its constituents and provide forums for cross cultural exchange.
In 2014, Prizm will exhibit a dynamic group or contemporary artists during Art Basel/Miami at the Miami Center for Architecture and Design. Salient works will be presented that highlight the diversity evident in contemporary visual art practices today, including painting sculpture and mixed media installations.
Additionally, PRIZM will feature the work of emerging Miami-based artists of African descent, such as T. Eliot, and Asser Saint Val. These artists redefine their world and bring into focus socio-political and cultural issues pertinent to the people of African descent in Miami and beyond. The select artists are actively engaged in perpetuating Miami's growth as a cultural hub.
Opening Reception
Join Prizm To For An Evening Of Cocktails With Our Exhibiting Artists To Mark The Beginning Miami Art Week.
Prizm Panels Presented By The Green Family Foundation & Fiu African & African Diaspora Studies At The Steven J. Green School Of International And Public Affairs
Prizm hosts Prizm panels; a series of conversations & film screenings presented by leading thinkers and practitioners in contemporary African and African diaspora art. Panelists will include Kebona Mercer, Professor of Art and African American Studies at Yale University, contemporary visual artist, Jefferson Pinder, Charlotte Mouquin Voznesenskaya & Oshun Layne of Rush Philanthropic Arts Foundation, and others more.
12:00 PM – 12:30PM Serendipity a conceptual film by Awol Erizku
1:00 PM – 2:30pm Prizm Panel Talk with Prof. Kobena Mercer moderated by Prof. Patricia Saunders
Prof. Mercer will discuss his new book, Travel & See, in which he presents a diasporic model of criticism that pays close attention to the aesthetic strategies in contemporary Black diaspora art. He also traces the shifting political and cultural contexts in which black visual art circulates over the last 35 years.
2:45 PM – 3:15PM Film Screening Papa Machete A Third Horizon Film
More than two hundred years ago, the slaves of Haiti defeated Napoleon's armies in the historic revolutions that took place between 1791-1804. One of their weapons was the very tool they used to work the land, the machete. Papa Machete explores the esoteric martial art that evolved during the slave revolts through the practice and life of a farmer named Alfred Avril. The short film documents his proud devotion to his heritage in the face of bitter poverty, and his efforts to keep this mysterious art alive.
3:30 Pm – 4:15 Pm Prizm Panel Talk With Contemporary Visual Artist Jefferson Pinder
4:30 Pm – 5:30 Pm Rush Philanthropic Arts Foundation talks about their work in Brooklyn and how they're using the arts to educate.
Prizm Block Party
With Sonic Sounds From King Britt. Prizm Will Also Host A Basel Domino Tournament.
12 pm – 7 pm
A break from Miami Art Week, Prizm hosts a mid-day social. Join us with our co-hosts rush philanthropic arts foundation for cocktails, music, light bites and networking with friends in art. King Britt will provide the righteous beats for the day. At 5:30 PM, contemporary artist, Jefferson Pinder, will present his performance piece Dark Matter(s) reaching Lionz of Zion. Jefferson Pinder has created a morality play of sorts in which there is entanglement of music, athleticism and power. Slightly didactic, partly formal and consistently explosive, these break dancers will be lying their bodies On-The-Line to produce a dynamic performance that frighteningly brings rioting and B-Boy battles to contemporary art.
Thank you for using Soul Of Miami!