Wynwood To Host Third Annual Wynwood Pride Festival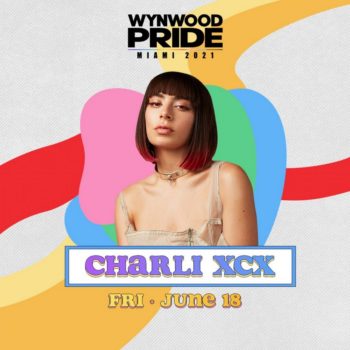 Friday, June 18, 2021: 5pm – 3am
Saturday, June 19, 2021: Saturday, June 19, 2021:
The Oasis (Mainstage)
2335 North Miami Avenue
Miami, FL 33127
Tickets:
Friday $50+
Saturday Free
Link to purchase tickets
Website
Friday
Confirmed Performances By: Charlie XCX, Kandy Muse, Miss Toto, Athena Dion, Morphine Love, FKA Twink, Kat Wilderness, Juicy Love and more.
Saturday
Confirmed Performances By: Honey Dijon, Derrick Carter, and more.
Miami's Wynwood Arts District will celebrate Pride month throughout June and host the third-annual Wynwood Pride Festival. The festival, launched in 2019 and attended by over 50,000 supporters, culminates this year with feature performances from Charli XCX, Honey Dijon, Kandy Muse, Miss Toto, and more. The event kickoff will take place at The Oasis on June 18, 2021, followed by a neighborhood-wide takeover on June 19th. The Wynwood Business Improvement District (BID) is partnering with Wynwood Pride to host a wide range of activations at popular neighborhood hot spots like The Oasis, 1-800-Lucky, Coyo Taco, Freehold, R House, Pizza & Beer, Veza Sur, No. 3 Social, and more with live concert series, neighborhood-wide drag shows, all-day dance parties, surprise celebrity appearances, and new Pride mural installations.
"The Wynwood community is proud of its partnership with Wynwood Pride and commemorate National Pride Month in support of our LGBTQ+ residents, visitors and the communities we serve," said Albert Garcia, chairman and co-founder of the Wynwood BID. "Wynwood is a community that proudly embraces diversity and inclusion. Over the past few years, Wynwood Pride has brought together thousands of people to celebrate Miami's growing LGBTQ+ community. This year, extra care has been taken to curate one-of-a-kind, outdoor experiences and activations across Wynwood's beloved cultural, entertainment and culinary venues."
Wynwood's newest culinary and entertainment venue, The Oasis, will act as the main stage for major headliner performances, top local & national DJs, RuPaul's Drag Race Icons, celebrity hosts, and more. 1-800-Lucky, a 10,000-square-foot Asian-fusion market with indoor and outdoor seating, will present a booming soundtrack by both local and international DJs. R House will host Drag Brunches, Miss Wynwood Pageant, and other outstanding performances honoring Miami's most fabulous drag performers. The Freehold Wynwood will also keep the party going with an All-Day Disco, featuring funk and house music with non-stop DJ sets and a Sunday cool-down, and closing party with DJ Eli Escobar.
"Wynwood Pride is thrilled to return for its third year with an incredibly progressive lineup that speaks to our diversity as a community and celebrates our past while looking towards the future," said Jose Atencio, organizer of the Wynwood Pride Festival 2021. "Last year, Wynwood Pride pivoted to a digital celebration, but we are ready to safely come together and once again create some Pride magic together after this past year of being apart."
"The LGBTQ+ community is an integral part of Miami's cultural fabric. We're excited to partner with Wynwood Pride and welcome the community to celebrate at The Oasis, Wynwood's newest culinary and entertainment venue" said Sven Vogtland, co-owner of The Oasis, Coyo Taco and 1-800-Lucky.
Wynwood Pride 2021 will also benefit three organizations in the fields of LGBTQ+ Youth, Health, and Justice: YES Institute, Planned Parenthood of South, East, and North Florida, and Equality Florida. Tickets start at $50 for the exclusive June 18th Kick-off event at The Oasis. Events at the Oasis on Saturday, June 19th are FREE and open to the public.