Museum Of Graffiti Celebrates Its One Year Anniversary By Presenting Two Simultaneous Shows And A Week Full Of Activations
November 30 – December 6 | 2020
November 30: Opening of Museum of Graffiti's Denim Bar inside Curio at Faena Bazaar, 3400 Collins Ave, Miami, FL 33140
December 1: Opening of Ahol Sniffs Glue's Biscayne World featuring new work by Miami icon Ahol Sniffs Glue (David Anasagasti) at the Museum of Graffiti, 299 NW 25th St, Miami, FL 33127
December 2: The grand re-opening of Gustavo Oviedo: Symbiosis at the Shelborne Hotel, 1801 Collins Ave, Miami Beach, FL 33139
December 3: Pool-side painting with graffiti artist 1DER, with a focus on themes of racial equality and justice, at the Kimpton Surfcomber Hotel, 1717 Collins Ave, Miami Beach, FL 33139
December 4: Opening of Eye Candy featuring new work by New York City graffiti pioneer, LA2 (Angel Ortiz) at the Museum of Graffiti, 299 NW 25th St, Miami, FL 33127
December 5: Outdoor screening of Why the Spray documentary at the Museum of Graffiti, 299 NW 25th St, Miami, FL 33127
With the cancellation of Art Basel, Miami's annual art fete, Wynwood's Museum of Graffiti, is proud to announce a list of special events and highlights during Miami Art Week 2020. As Wynwood's only museum, the Museum is committed to keeping Miami's arts and culture alive for locals and domestic travelers who have spent much of 2020 sheltered in place. In celebration of Miami Art Week, which coincides with the Museum's one-year anniversary, the Museum is breaking its own precedents by presenting two simultaneous solo shows within the Museum's gallery space. In addition, the Museum will make several updates to its permanent Style Masters exhibition, including a comprehensive section that highlights the impact of female graffiti artists on the movement—made possible by Eat Me Guilt Free, a female-founded and operated business.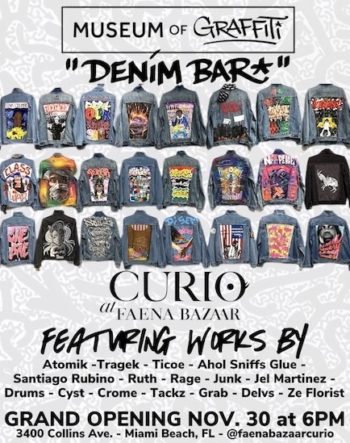 Monday, November 30 | 6PM
This year's events will kick off on Monday, November 30 with the opening of the Museum of Graffiti's Denim Bar inside Curio at Faena Bazaar (3400 Collins Avenue). The show will display original artwork on denim jackets from emerging young talent and world-renowned contemporary graffiti artists, all with ties specifically to South Florida. Guests will be able to purchase denim jackets with one-of-a-kind art, pins, and patches. The Museum of Graffiti Denim Bar at Faena Bazaar will feature the artists most active on the streets of Miami like Atomik, Abstrk, and Ze Florist. Open daily from 11am – 6pm from November 30 – December 30.
Opening Party: Join us for a toast as we celebrate the opening of the Museum of Graffiti Denim Bar at Curio at Faena Bazaar at 6PM. Artist Cyst1 will be on site doing further customization consultations with guests who purchase a jacket or bring their own.
Tuesday, December 1 | 2020
Museum of Graffiti (299 NW 25TH Street) will celebrate the opening of Biscayne World, an exhibition by Miami icon Ahol Sniffs Glue (David Anasagasti), known for his sleepy eyes that he has painted all over the streets of Miami for several decades. The new work is a love letter to Miami and its cast of characters, culled from three years of riding the bus up and down Biscayne Boulevard.
"From rich people to poor people and all the characters in between, Biscayne Boulevard is a petri dish with the perfect cross section of this awesome city. In the same Biscayne that's typically underappreciated and taken for granted, I saw as a reservoir of untapped shit that served as unlimited inspiration. I listened to the conversations, the coughs, the cries, the many languages of the bus. I breathed in every smell possible, and I took the happiness along with sadness. We were all trying to get somewhere. That's Biscayne World." – Ahol Sniffs Glue
Ahol Sniffs Glue's tenacity, talent, and hard work allowed his personal genre of art to transcend the streets into galleries and mansions where there is now a constant celebration and discussion of his artistry and craft. "The Museum of Graffiti was built to celebrate stories of people like David Anasagasti, one of Miami's most recognizable public artists whose roots are entirely punk and street and whose pseudonym, Ahol Sniffs Glue, yells out anti-conformity," said Alan Ket, co-Founder of the Museum of Graffiti.
In his show Biscayne World, and new book titled same, we get to understand Ahol Sniffs Glue. The book presents a close-up into his work ethic, his illustrations, his desire to share the drawings that make up his Miami. In his work we obviously see an artist taking risks, but if you look closely you also see a love for people and for humanity – scabs, bullet holes, dirty clothes and all. "His choice of subjects and illustration style are outrageous but so is Miami and its people," said Allison Freidin, co-Founder of the Museum of Graffiti.
Published to coincide with the exhibition, the new limited edition book, Biscayne World: The Art of Ahol Sniffs Glue will be for sale exclusively in the Museum gift shop for $50, with only 100 copies made.
Biscayne Brunch: The "First Look" of the new show begins at 10AM by VIP invitation only, and open to the public beginning at 11am with timed ticketing strictly enforced. Tickets available at museumofgraffiti.com
Book Release + Signing: The artist will host a celebration and book signing at the Museum from 5pm to 8pm December 1, with timed ticketing strictly enforced. Tickets available at: www.museumofgraffiti.com/events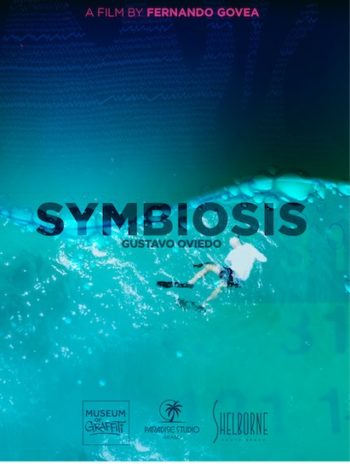 Wednesday, December 2 | 2020 @ 6PM
Due to the overwhelming excitement over the Museum's most recent exhibition, Gustavo Oviedo: Symbiosis, the show will travel from the Museum to the Shelborne Hotel (1801 Collins Avenue). Join us for light bites and complimentary drinks from 6 – 8 PM to view the exhibit in a completely new space as it is reassembled in the maritime themed hotel. The artist will be on site, outdoors in the Oasis Garden, signing his book and premiering his brand new documentary film featuring his marine explorations and explaining the role of the Biscayne Bay in inspiring his graffiti style artwork. The screening will be followed by an Art Talk and Q&A with the artist. Gustavo Oviedo's "Symbiosis" includes large paintings of loose sea-like forms, mixed-media collages, and visual representations of otherworldliness devoid of human language or graffiti letters, all starting at $1,000. The event is free with registration at https://www.eventbrite.com/e/opening-night-gustavo-oviedos-symbiosis-on-exhibition-at-shelborne-sobe-tickets-128909095575
Thursday, December 3 | 11:30AM – 6PM
In partnership with the Kimpton Surfcomber Hotel, The Museum of Graffiti presents Live Outdoor, Poolside Painting by Artist 1DER. Sit back and watch as Miami-basedgraffiti artist 1DER live paints a large-scale work featuring themes of equality and justice from 11:30AM – 4PM. Join us for light bites and complimentary wine during a special Social Hour (a signature Kimpton daily tradition) from 5 – 6PM. Social Hour will be open to the public for this special occasion only. A Moderated Art Talk with the artist will take place simultaneously from 5PM – 6PM, where guests will be able to learn more about 1DER, the Miami-based African American artist and illustrator of Bajan and Bahamian decent. 1DER's time spent studying color theory at Florida International University shines through each of his vibrant works on canvas. With spray paint as his medium of choice, he has produced works for large organizations and institutions such as the Museum of Graffiti, Artists 4 Israel, and University of the West Indies. The event is free of charge for registered guests; to register please visit: https://www.eventbrite.com/e/kimpton-surfcomber-x-museum-of-graffiti-present-1der-tickets-128935374175.
Friday, December 4 | 2020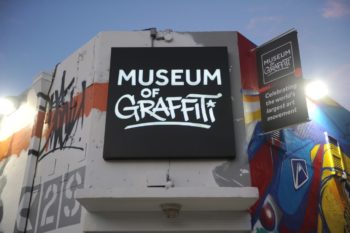 The Museum of Graffiti turns one year old and reveals new works by Angel Ortiz, known by the tag LA II or LA2—a New York City veteran of graffiti art, best known for providing the lettering style and embellishments used in Keith Haring's paintings in the 1980s.
LA2 came of age in the 1980s when tags adorned the trains, busses and walls of the City and like many kids of that era, he joined the movement and adopted a pseudonym: LA2. By the age of 14, his name permeated the walls of lower Manhattan garnering street fame that led to a chance encounter with another downtown artist, Keith Haring who was 9 years his senior. The two artists became fast friends and began spending their days painting in Haring's studio and their nights partying at the downtown clubs. As an impressionable teenager, their friendship changed the artist's life forever as he became introduced to Haring's impressive art world and its stars: Warhol, Kostabi, and Basquiat. In exchange, LA2 and his TNS crew gave Haring the street cred he needed to navigate the streets with ease to create public art, even on subways, a surface typically reserved for the most daring graffiti writers.
Together, LA2 and Haring created hundreds of paintings and traveled the world exhibiting their art. While Haring drew cartoon characters like dogs, babies and other figures, LA2 would add in his style – tags, squiggles and bold lines that gave their collaborations extra energy, movement, and a street aesthetic. Tragically, Haring passed away in 1991, devastating LA2 and forcing him to find his own artistic path.
For the past three decades LA2 has applied spray paint and ink to canvas, clothing, and various found objects in his unwavering journey to push his personal graffiti pop style. Fluorescent colors rooted in his Puerto Rican heritage, bold lines and tags learned in the streets, and the cartoons as a tribute to his friend Keith, make each painting a sweet piece of candy for your eyes. The energy of the old dance clubs, of the Avenues filled with cars blaring music, and the children who grew up on this street art culture are channeled onto each canvas that explodes with positive energy and life – a life of art, color and celebration. This is LA2, this is real graffiti art.
Along with several joint exhibitions of his work and Haring's, LA2's own mix of contemporary symbols with graffiti lettering has been shown in galleries and museums across the United States, but the Museum of Graffiti will host the artist's first ever solo exhibition in South Florida.
In celebration of its anniversary and LA2's Eye Candy, the Museum of Graffiti will host a sketchbook swap, outdoor drawing party for collectors, artists, and VIPs, by invitation only.
Saturday, December 5 | 6PM
The Museum of Graffiti presents movie night under the stars featuring the private world premiere of "Why the Spray," a full-length documentary that tells the stories of five Miami graffiti artist and why they chose this artform. Tickets to see the new film, already named Best Feature Documentary at the American Golden Picture International Film Festival, will be made available via the Events section of the Museum of Graffiti's website for $25 each. The film will begin promptly at 6PM, with the cast of artists, writers, and directors in house to answer questions following the viewing. Popcorn provided! To view the trailer, visit: whythespray.com. Tickets available at museumofgraffiti.com/events