PAMM Shop: Small Business Saturday Artist Meet & Greet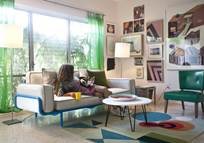 Saturday, November 26, 3-5:30pm
Pérez Art Museum Miami (PAMM)
1103 Biscayne Blvd.
Miami, FL 33132
Free public event at PAMM Shop
Visit Pérez Art Museum Miami on Small Business Saturday and meet some of the Miami artists who design the unique and exquisite pieces at PAMM Shop. Artists AHOLSNIFFSGLUE, AMLgMATD, Dafné Alleno, Werner Blumenthal and Michelle Weinberg will be available to chat about their inspirations and showcase their work.
American Express cardholders will receive 2X rewards with an enrolled American Express Card this holiday season on purchases. Dine at Verde that day and receive a voucher for a free appetizer on your next visit.
AHOLSNIFFSGLUE and Werner Blumenthal
Inspired by the energy of Miami, AHOL JEWELRY is a brand of simplicity, geometry and obscurity; it is that obscureness that makes the abstract real. The iconic insignia of Miami's favorite graffiti artist, AHOLSNIFFSGLUE, is the core of this 3D printed jewelry line.
AMLgMATD
AMLgMATD is a collaborative studio established by Laz Ojalde and Natalie Zlamalova in 2014, experimenting in works of art, design objects and environments that reflect quirky points of view and love of unusual and overlooked materials. The WEBSTR stool at PAMM Shop harkens back to the retro lawn chair look by utilizing vintage strapping in a contemporary way creating a look that is Miami at its core.
Dafné Alleno
It all began with the idea of creating elegant and edgy jewels easy to put on and remove. Combining lightness and refinement, each single piece is comfortable to wear, so light, such a "second skin" jewel. The elegant subtlety of Alleno's jewelry can suit the minimalist look when worn individually and the maximalist look when ganged together.
Michelle Weinberg
Michelle Weinberg is a visual artist living and working in New York City and Miami. Her playful geometric patterns and aesthetic lends itself to design for the home that blurs the line between art and function.