Marlins' Jose Fernandez and Chef Adrianne Calvo Host 2nd Annual Taste Of Miami Food and Wine event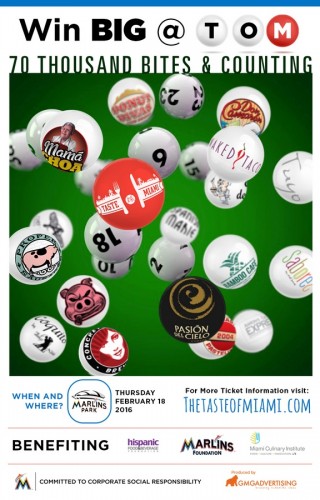 February 18, 2016 at 6PM
Marlins Park
501 Marlins Way
Miami, FL 33125
website
Benefiting Miami Culinary Institute & the Hispanic Food and Beverage Foundation.
The second annual edition of Taste of Miami–a dynamic charity event showcasing the unique and stylish flavors of South Florida through a delectable selection of culinary bites, premium spirits, and craft beverages from the city's top restaurants–will take place Thursday, February 18, 2016 at Marlins Park. The evening will be hosted by renowned celebrity chef and Miami native Adrianne Calvo, as well as Miami Marlins All-Star pitcher Jose Fernandez. Proceeds from this event under the stars will benefit the Marlins Foundation, the Hispanic Food and Beverage Foundation, and the Miami Culinary Institute's Joanna Rodriguez Memorial Scholarship Fund.
Taste of Miami targets the vast population of culinary enthusiasts in the South Florida area, but also aims to attract a diverse demographic of general consumers who enjoy food, drink, and participation in charitable endeavors. The proceedings were inspired by the memory of Miami Culinary Institute student Joanna Rodriguez, who passed away unexpectedly at the age of 20 in December 2014.
Ms. Rodriguez was a beloved member of the school's student body whose passion for the culinary arts and brightening the lives of those around her was exemplified by her ever-present smile and compassionate spirit. In memory of Joanna's talent, dedication, and love of her craft, the Marlins Foundation, in conjunction with the Hispanic Food and Beverage Foundation and the Miami Culinary Institute, forged the concept of a night featuring some of the preeminent talents in the celebrated Miami food and wine landscape.
"It's an honor to be able to serve as co-host of an event that ultimately celebrates both the culinary arts and the memory of an aspiring student who dreamt of a career in the field", remarks Chef Adrianne. "The fact that the night will help launch the university careers of two students who also want to embark on this path provides me with even greater inspiration to be a part of it."
Funds raised from the event will go towards the funding of two Miami Culinary Institute scholarships for deserving Hispanic high school and college students looking to embark on a career in the Food and Beverage industry.
In addition to providing attendees with a diverse and multi-course array of Miami's unique flavors, taking place on Thursday, February 18, Chef Adrianne and Jose Fernandez will judge a live "Chef Showdown" that featuresTelemundo's Chef James Tahhan returning to defend his MVP Master Chef title alongside a Miami Marlins All-Star alumni player serving as his sous chef. Exhibiting restaurants and microbreweries will also compete for the coveted Taste of Miami "Grand Slam" award. The Grand Slam award is a "Best In Show"-form of recognition that will be determined by votes from the event's attendees on each contest participant's performance in the categories of Table Presentation and Taste. The winning entry will receive a 2016 Taste of Miami Grand Slam Trophy and a $1000 donation will also be made to the participant's 501c3-classified charity of choice.