Clevelander South Beach 1st Annual Industry Beach Bash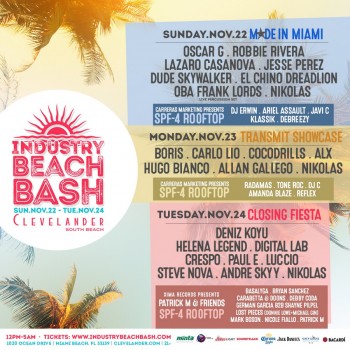 Sunday November 22nd thru Tuesday November 24th, 12:00PM through 5:00AM
Clevelander South Beach
1020 Ocean Dr.
Miami Beach, FL 33139.
Ticket information
The iconic Clevelander Hotel South Beach along with Grey Goose, Bacardi, Jack Daniels, and Red Bull are gearing up to combine top shelf liquor and top level DJ's as they present the first annual Industry Beach Bash.
This mega three-day event welcomes the hospitality industry personnel, and those looking to party it up at one of South Beach's premier locations.
Industry Beach Bash attendees can expect a complete Clevelander takeover. The Clevelander's World famous Pool+Patio area along with the Sun Deck and C-Level Rooftop Terrace will be in full-use to provide different sensory experiences. Each area will feature open bars daily from 2:00PM until 3:00PM, and again commencing at 11:00PM-Midnight. Happy hour specials will be in effect throughout the three day event during non-open bar times.
Headline level DJs will provide energy filled beats throughout the three day event.
Day 1: Sunday, November 22nd, kicks off the Industry Beach Bash with a Made in Miami theme, which will feature Oscar G, Robbie Rivera, Lazaro Casanova, Jesse Perez, Dude Skywalker, El Chino Dreadlion, and Oba Frank Lords.
Day 2: Monday, November 23rd, will feature the Transmit Showcase to present: Boris, Carlo Lio, Cocodrills, ALX, Hugo Bianco, and Allan Gallego.
Day 3: Tuesday, November 24th, named the "Closing Fiesta" will wind down the first ever Industry Beach Bash, with Deniz Koyu, Helena Legend, Digital Lab, Crespo, Paul E, Luccio, Steve Nova, and Andrew Skyy.
Sponsors of the Industry Beach Bash include: Grey Goose, Bacardi, Jack Daniels, Red Bull, Minta, Live It Productions, Taittinger Champagne, Coors Light, SoundTrack, and Deep Eddy Lemon.
For more information, media and sponsorship inquiries, please contact info@creativasgroup.com.